Samsung Electronics is planning to release its Smart Refrigerators, which are applied with its AI (Artificial Intelligence) voice recognition service called 'Bixby', globally. It is going to target global markets by adding four typical European languages to Bixby.
According to industries on the 5th, Samsung Electronics is going to add more languages that Bixby, which is applied to Smart Refrigerator called 'Family Hub', supports. It is going to target European market, which is a battleground for Smart Home Appliances, and four languages such as German, French, Italian, and English. Although English is already one of the languages that Bixby supports, it is likely that Samsung Electronics is going to include voice recognition function that is specialized to Britain rather than North American market.
"Bixby was applied to Smart Refrigerators first and they are currently on the markets in South Korea and the U.S." said Executive Director Do Young-soo of Samsung Electronics Household Appliance Business Department. "We are going to expand home appliances that are applied with Bixby globally by adding major European languages to Bixby by end of this year."
Samsung Electronics applied Bixby to Smart Refrigerator called Family Hub, which is the first home appliance to be applied with Bixby, in this past May. It started spread of its distinctive voice recognition ecosystem by applying Bixby, which has only been applied to Smartphones, to home appliances as well.
Family Hub is seen as a major IoT (Internet of Things) device besides its AI voice recognition functions. It plays a role of a 'hub' that can control other electronics such as microwave, oven, induction, and range hood that are in a kitchen. This is the reason why Samsung Electronics installed a large display in front of Family Hub in order to secure UX (User Experience) that can easily control and mange devices in a kitchen. Samsung Electronics plans to use Family Hub as a platform to create Smart kitchen appliance environment.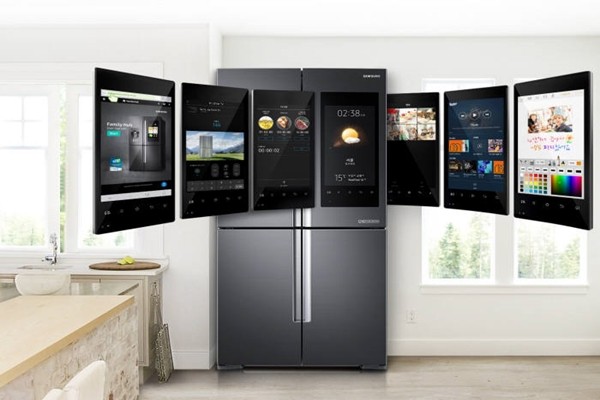 Samsung Electronics is focused on making investments into securing 'connectivity' such as receiving global IoT standard called 'OCF (Open Connectivity Foundation)' certification for its Family Hub. It is actively working to draw foreign distribution network such as food delivery services to Family Hub before it makes Family Hub 3.0 upgrade. Its strategy is to increase level of convenience for users by securing variety of contents. "Upgrades until Family Hub 2.0 focused on securing stability in software management." said a representative in this industry. "Starting from Family Hub 3.0, Samsung Electronics is going to include many new contents and functions with connectivity at the center."
Bixby is seen as an important method that will lead Samsung Electronics' Smart Home Appliances. Samsung Electronics is planning to differentiate its products from other products by increasing level of convenience for users and allowing users to control Smart Refrigerators through their voice. By adding European languages to Korean and English, it is going to build up marketing that is customized for a particular country. It is also planning to secure superiority in competitions against well-known European home appliance manufacturers such as Bosch-Siemens, Miele, and Electrolux by putting out IoT and AI technologies in the front line.
Samsung Electronics is planning to apply Bixby to all of its home appliance products such as air conditioner, washer, and TV in the future in order to build up its competitive edge in Smart Home products by expanding a portfolio of products that are applied with AI and IoT. "Samsung Electronics has competitive edge in voice recognition technologies that are specialized for different products." said Executive Director Do. "By slowly expanding areas, we are going to create a Smart Home environment that consumers want."
Staff Reporter Kwon, Dongjoon | djkwon@etnews.com