HOTPING(www.hotping.com), an online specialty mall for women's clothing, is experiencing roaring success from the enthusiastic support of women in their 10~20s. Last year's sales alone recorded a whopping 35.4 million USD(40 billion KRW), a 14 million USD(16 billion KRW) increase from the previous year. Growing fan loyalty has enabled expansion into the United States, United Kingdom, China, and Japan. HOTPING's developments thus far have proven it as a K-style force and it is expected to continue challenging big name SPA brands.
HOTPING CEO Kim Yeo-Jin first set out to break the stereotype that 'pretty clothes come in small sizes.' She built her competitiveness by offering a wide range of size choices, carrying all from Small to XXXL, and designs that maintained aesthetic fit regardless of size difference. This furthered her brand message that young women who had different body shapes than the media-shaped ideal can still dress up in pretty, good-fitting clothes.
CEO Kim said, "There are so many young women who only concentrate on hiding their bodies under big and ill-fitting clothing – I wanted to empower these women and share the joys of fashion." She added, "HOTPING was able to grow this much because of the employees who worked very hard to crunch out a wide assortment of styles in multiple sizes."
Prices are minimized to a bargain for the largely young customer base while quality is maintained. Appreciation for this consideration is reflected in high customer ratings. Undoubtedly the cost-effective aspect is one of HOTPING's main competitive edges. Blouses, T-shirts, skirts and more are all available for just 10~20 USD. HOTPING's other strength is keeping up with fast-paced changes in fashion to stay in tune with trend-sensitive female customers.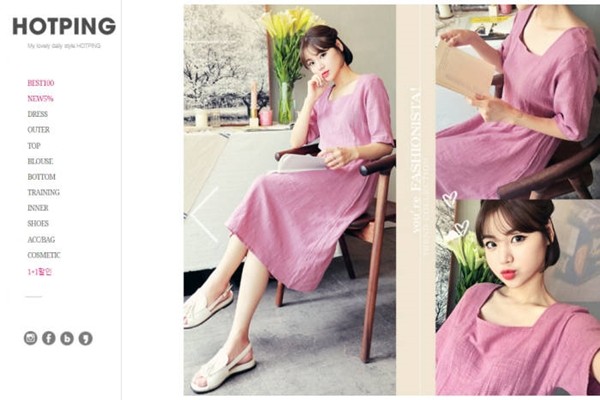 Such strengths have marked HOTPING as a favorable brand even for women in their 30~40s. The breadth of sizes and styles has recently captured the attention of missy customers. Such overall positive feedback has influenced the brand's long-term strategy to embrace women of all ages and grow into an easy-styling global SPA brand.
HOTPING's jeans collection called 'Magic Pants' is the ultimate best-seller, selling over 1 million pairs just last year. Customer reviews noted how the jeans allowed both comfort and flattering fit regardless of body shape. In the same way the collection has garnered popularity in China and Japan.
CEO Kim said, "Our Magic Pants are well loved and is evolving every season with a new series." She explained, "They are extremely easy to style and shows how HOTPING can satisfy customers with cost-effectiveness."
HOTPING hopes to expand into more markets and reach global customers. In 2015, the brand already started this journey by consecutively opening its English, Chinese, Japanese, and Taiwanese malls. With global e-commerce platform cafe24(www.cafe24corp.com/en)'s Marketing Center, HOTPING is focusing on localized marketing through online portal keywords and social media exposure. In turn, customer loyalty has spiked and sales in Japan last year reached 2.6 million USD(3 billion KRW).
Already, global customers see HOTPING as a 'brand that mirrors the most popular K-style trends.' Rising customer demand for K-style has also set higher expectations for the brand. For this reason, CEO Kim has begun preparations with over 100 employees to gradually increase the number of target markets.
CEO Kim said, "So far, customer age group and popular items at a global level have shown similar patterns with Korean customers," and "I hope HOTPING becomes a brand that sells more than clothes and uses online infrastructure to gift special memories to customers."
Staff Reporter Yoon, Heeseok | pioneer@etnews.com