South Korean research team has developed super-power-saving micro-server that has 10 times higher degree of integration than current servers and has 7 times less of amount of electricity consumption. Because it is possible for the research team to commercialize this server within 6 months, it is likely that this server will bring significant changes to South Korean server markets that are dominated with foreign products.
Electronics and Telecommunications Research Institute (ETRI, President Lee Sang-hoon) announced on the 16th that it has developed low-power micro-server called 'Cosmos' that has dramatically reduced its size by having at least 10 times more of degree of integration than current servers. ETRI is planning to commercialize this server after going through commercialization process for next 6 months.
'COSMOS' will be manufactured as ATOM CPU-based micro-server through a server manufacturing company called KTNF. Micro-server is a server device that draws lots of attention as its amount of electricity consumption and ___ are lower than that of current servers. Its performance compared to electricity consumption is outstanding as it uses ATOM ARM CPU that is used for Smart devices or laptops.
'COSMOS', which is the first South Korean micro-server, has at least 10 times higher degree of integration than general x86 servers that are currently on markets. It can greatly reduce space that is occupied by servers as 64 COSMOS servers can be loaded into single chassis with width and height of 48cm and 22cm respectively.
Its power efficiency is about 3 times higher than current x86 servers. On the other hand, its amount of electricity consumption is only seventh of electricity consumed by current products. Its data input/output speed is 10 times faster than Ethernet, which is bus structure local area network.
It is also possible to manage COSMOS as single server by connecting 64 COSMOS servers. Its telecommunication speed between servers is 10 times faster due to separate system connection network called SRIO (Serial RapidIO). After localizing most of hardware such as server board and base board excluding CPU, ETRI has also developed its own drivers and management tools.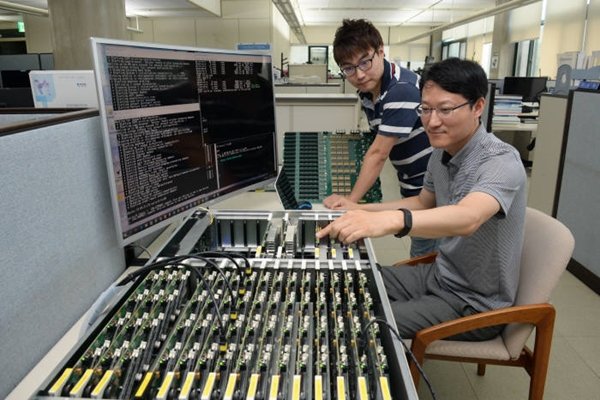 ETRI has also increased versatility of entire system by applying virtual technology called 'OpenStack', which is based on open source, and providing Cloud service.
ETRI is currently carrying out test operations by applying virtual desktop (IM-VDI) as an applicable service and open Cloud platform called Paas-TA to implement electronic government. ETRI is also developing server and storage ultra-convergence rack computing technology that can expand a server that is in a unit of chassis into a unit of rack. COSMOS server can load 512 servers into single rack.
"We succeeded in localizing low-power and high-integrated micro-server after 3 years of research." said Department Head Cho Il-yeon of SW-Based Technology Research Headquarters. "We are going to contribute in securing markets and vitalizing related industries by strengthening competitive edge of South Korean equipment."
Competitions for new servers that are equipped with next-generation processors are very fierce. Recently Intel released Xeon Scalable processor that has 27% more of CPU cores and 50% wider memories than previous-generation processors. Dell EMC also released 'Power Edge', which is a 14th generation x86 server. Korean HPE introduced 'ProLiant Gen 10', which is a 10th generation server. All these businesses are releasing new servers as number of demands for high-integrated and low-power computing servers has increased due to Industry 4.0. More x86 servers are also being introduced in South Korea. Last year's South Korean server markets were worth $905 million (1.0307 trillion KRW) based on sales which is 3.6% increase compared to the year before.
"South Korean server markets are monopolistic structures where 95% of them are dominated by foreign global businesses." said a representative for an industry. "Development of micro-server that is smaller than general servers and dramatically reduced amount of electricity consumption will have huge impact on dynamics of South Korean server markets."
Staff Reporter Kim, Youngjoon | kyj85@etnews.com