A car-sharing company called Uber has entered South Korea's food delivery market.
Uber held a press conference on the 10th and announced that it will be launching its food delivery platform called 'UberEATS' in South Korea. UberEATS is a service that connects people who order food with restaurants and delivery men and is similar to delivery agency platforms such as Baemin Riders, Ddingdong, and FoodFly.
A difference is that anyone can be a delivery man for UberEATS. One can deliver food by walking or riding his or her electric bicycles, two-wheeled vehicles, and normal bicycles. However he or she cannot deliver food by driving a car.
"We can gain competitive edge in South Korea as well through knowhow that we have accumulated for many years." said Allen Penn who is the head of UberEATS for Asia Pacific region. "We are also going to contribute in informing foreign tourists who visit Seoul about South Korean taste."
UberEATS' first service location is going to be entire Gangnam-gu and Itaewon. It has recruited about 200 restaurants as its partners where most of them are fancy restaurants. In order to expand range of selection for consumers, UberEATS is planning to add more restaurants with variety of kinds of food and price range. It is also planning to expand its business towards entire Seoul.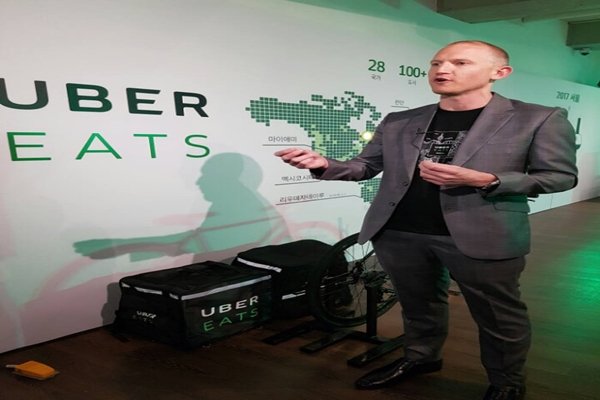 Its time of service will be between 11 A.M. and 11 P.M. It is focusing on delivering lunch, dinner, and snacks rather than late-night snacks. Commission for restaurants is about 30% and it is about two times higher than commission by South Korean delivery applications (15%) for restaurants.
Pay system for delivery men is going to be flexible as it will be different in real time depending on supply and demand. Amount of pay will go up during days and hours when orders are swamped and it will go down when there are not many orders. It is heard that commission rate is similar to commission rates in global markets. It is different from South Korean companies that use single rate system.
UberEATS chose its Big Data-based IT technical skills as its strength compared to its competitors. It notifies users with expected delivery time of food and current location of delivery men and it also recommends personalized food based on past orders. It provides the best routes for delivery men based on Google Map and it also does consulting business for restaurant partners.
Predictions regarding outcome of UberEATS's business in South Korea are already in disagreement as South Korean delivery application markets are already dominated by South Korean companies. Also awareness of Uber in South Korea is weaker compared to other countries. Fact that the position that will be in charge of UberEATS' business in South Korea is vacant is also another part that worries some. Uber Korea and UberEATS are currently looking to fill a position of branch manager who will be in charge of Gangnam-gu and Itaewon.
UberEATS was officially launched in Toronto in 2015 and is currently in service in 111 cities as of August. Seoul is the 112th city where UberEATS is in service.
Staff Reporter Choi, Jonghee | choijh@etnews.com