Rubber that becomes conductive like a metal when pressure is applied has been developed. It is expected that this new rubber-like material that is both elastic and conductive will be used in variety of fields.
Research team led by Professor Woo Sam-yong of Korea Research Institute of Standards and Science's (KRISS, President Park Sang-yeol) Pressure Vacuum Laboratory announced on the 9th that it has developed rubber-like material that detects variety of difference in pressure and makes response by mixing special metallic particle with rubber. Research team is currently working with private companies to commercialize safe windows and doors and pressure sensors with this material.
This material is given conductivity by mixing micrometer-sized metallic particle, which is specially selected for this purpose, with silicon-based artificial rubber. Research team mixed metallic particles with rubber that is in a form of solution.
Conductivity of this rubber-like material increases as amount of pressure that is applied becomes stronger. Movement of electrons becomes more active when particles within this material become closer to each other as external pressure becomes stronger. Amount of electric resistance becomes smaller when density of metallic particles becomes bigger. Variety of products can be made by adjusting ratio between rubber and metallic particles and it is also possible to implement conductivity that is almost identical to conductivity of metals.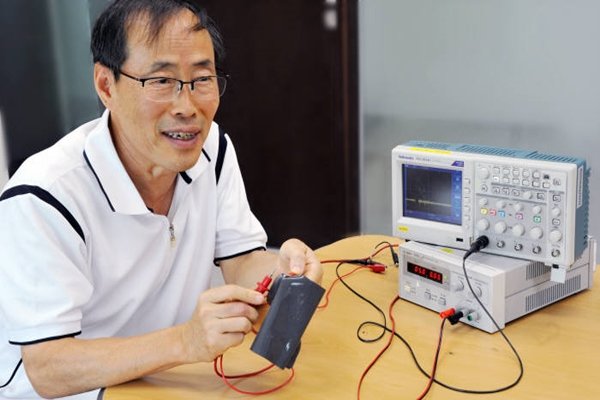 This material can be used for security purpose to check for any trespassers through pressure that is applied to sensors. It has higher detection accuracy than visual equipment that greatly depends on surroundings.
It is also possible to develop a simple switch that can implement button feel without any complicated mechanical structure by using rubber's elasticity. One can give many commands through single switch by utilizing difference in pressure that is applied from fingers. It is also possible to enhance water-resisting property of a commercialized battery by utilizing conductive property.
KRISS is also working on commercializing technologies for different fields by utilizing this rubber-like material. It is developing safe windows and doors that can detect trespassing through difference in pressure with Sunggwang Unitech that specializes in windows and doors. It is also commercializing new pressure sensors with PDK that manufactures pressure sensors.
Research team is planning to enhance functions of this rubber-like material and develop conductive materials by using polymers.
"If conductivity is added to rubbers that have elastic property, impossible things can be made possible." said Professor Woo Sam-yong. "If ratio of metallic particles is adjusted, it is possible to make very accurate measurement of pressure according to use or implement flexible pressure sensors."
Staff Reporter Kim, Youngjoon | kyj85@etnews.com