Hyundai Motor Company is planning to introduce 2nd generation model of FCEV (Fuel Cell Electric Vehicle) and its major technologies next month. Even though it still has about 6 months until official release of this model, its strategy is to emphasize itself as a 'first mover' rather than a 'fast follower' in markets for FCEVs. It is likely that it will attract attention from global industries as it will become the first automotive manufacturer to introduce 2nd generation of FCEV and corresponding strategies.
According to industries on the 12th, Hyundai Motor Company is preparing an event to introduce 2nd generation FCEV that is based on 'FE Fuel Cell Concept' and its technologies next month. Industries are focusing on introduction of Hyundai Motor Company's leading technologies and market strategies as it prepares to release its new FCEV model in February of next year which is the same time as when 2018 Pyeongchang Winter Olympics is held.
This event will be held as a global event in South Korea. It is heard that Vice-Chairman Chung Eui-sun himself is participating in this event and is preparing to appear as a speaker at this event. Not only is this event going to mention internalized technologies on hydrogen fuel cells and Hyundai Motor Company's own platforms for FCEV but it is also going to partially mention its competitive edge in price of FCEV. Industries are interested on what kind of card Hyundai Motor Company is going to pull out as a solution that will lower price of FCEV, which is currently considered as the biggest weakness of FCEV.
Industries predict that Hyundai Motor Company's 2nd generation FCEV model will be priced lower than Toyota's Mirai ($57,500) since it is about 2 years late in releasing its own platform than Toyota.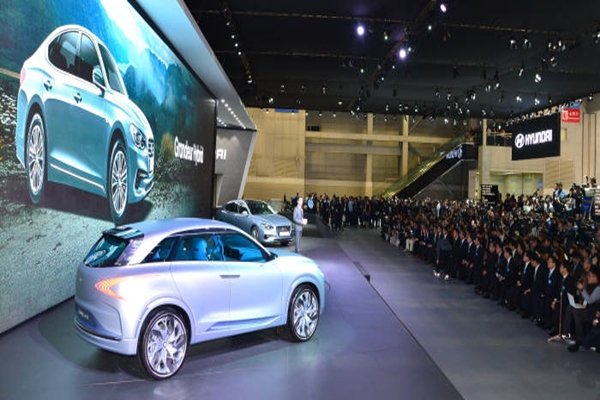 "We have secured one of the best technologies and competitive edge in the world through internalization of major technologies for fuel cells as we prepare to release 2nd generation FCEV, which is equipped with our own platform, in February of next year." said a representative for Hyundai Motor Company. "Although we are pushing to hold events that introduce Hyundai Motor Company's knowhow and strength in FCEV, we have not finalized on locations and times for these events."
Hyundai Motor Company recently succeeded in developing its own MEA (Membrane Electrode Assembly) and metallic separator, which are considered to have the highest degree of technical difficulties out of 3 major fuel cell technologies (MEA, separator, GDL (Gas Diffusion Layer)) and prepared production lines for MEA and metallic separator at its factory in Chungju. Industries are saying that Hyundai Motor Compoany broke down price barrier, which is considered as the biggest obstacle in FCEV markets, by localizing high-value major technologies that had been imported in the past. On top of this, it began hiring 300 South Korean and foreign fuel cell developers and producers, who have either Master's degree or Ph.D. degree, since early this year besides 200 FCEV engineers who are already employed in order to focus on enhancing its technologies.
Hyundai Motor Company's 'FE fuel cell car' can drive more than 800km with just single charge, which takes 3 minutes, and it will be 20% lighter than FCEV called 'Tucson ix'. Also we have greatly increased level of completion of FE fuel cell car by reducing volume of system y 20%, which is done by making fuel cell stack and fuel cell system such as driving device, inverter, and high-voltage junction box into modules.
Staff Reporter Park, Taejoon | gaius@etnews.com