KT successfully tested field tests for '5G WTTx (Wireless To The x)' solution, which provides GiGA internet through 5G network, at the top of a ski jump of Alpensia where 2018 Pyeongchang Winter Olympics is going to be held.
WTTx is a solution that replaces optical cables with wireless network and can provide wireless speed that is equivalent to GiGA internet at locations and environments where it is difficult to establish wired infrastructures.
KT connected 5G devices, which were located at the top of a ski jump of Alpensia, with 5G base stations that are established at Alpensia's main stadium called 'Pyeongchang 5G Center' and are 420 meters away from the skip jump through wireless network and implemented GiGA internet coverage.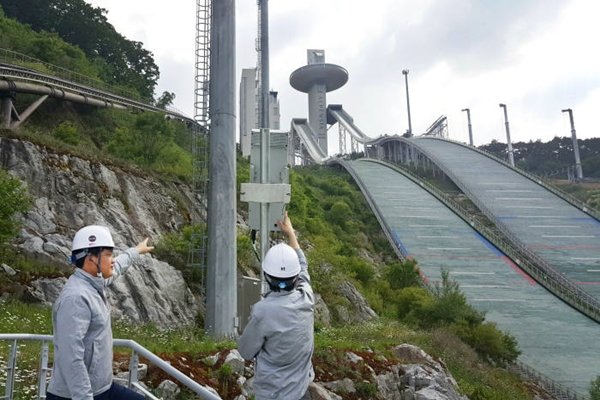 KT explained that 5G WTTx is one of the major 5G solutions that can overcome limitations of current wired internet such as optical cables. Starting with Pyeongchang, it is planning to expand this solution to every islands and mountainous regions in South Korea.
"We are currently at a stage where we are preparing to provide 5G WTTx-based broadband telecommunication infrastructures at islands and mountainous regions where it is difficult to provide GiGA internet telecommunication infrastructures." said Department Head Seo Chang-seok of KT Network Strategy Headquarters. "Not only are we preparing to provide 5G services that will be introduced at 2018 Pyeongchang Winter Olympics but we are also planning to develop variety of solutions such as 5G WTTx in order to commercialize 5G network early."
Staff Reporter An, Hocheon | hcan@etnews.com