Samsung Electronics is planning to ramp up production of next-generation 3D NAND flash memories at its 18 line located in Pyeongtaek.
Samsung Electronics announced on the 15th that it will be mass-producing 4th generation 64-layer 256Gb 3D V-NAND flash memories that can stack memory cells in 64 layers on full-scale. This product is based on TLC (Triple Level Cell) structure that can save 3 bits per cell.
Since last January, Samsung Electronics has been supplying 4th generation 256Gb 3D NAND flash-based SSD (Solid State Drive) to global B2B customers. Through increased production, it is going to apply this SSD to other products such as eUFS (embedded Universal Flash Storage) for mobile devices, SSD for consumers, and memory cards. It has set up a plan to have more than 50% of products that are produced within a month to be 4th generation products by end of this year.
This product is applied with 3 innovative technologies such as ultra-high density cell structure and process, ultra-fast operating circuit design, and formation of ultra-high credible CTF (Charge Trap Flash) thin-film. Compared to current 3rd generation 48-layer products, its speed, productivity, and electric efficiency are all improved by more than 30%.
Samsung Electronics' 3D NAND is based on a circular CTF cell structure that stacks tens of layers on top of each other when it makes cells, which are the smallest units of a memory, and vertically stacks them after drilling billions of small holes evenly from top to bottom. Usually when number of layers increases for 3D NAND flash memories, structures can be twisted or there can be differences of characteristics between the layers at the top and the layers at the bottom. Samsung Electronics has developed ultra-high density cell structure and process technology called '9-Hole' and overcame limitations by forming holes on each layer evenly and dispersing weight of entire layers. Samsung Electronics explains that it is even possible to implement 1Tb since cells can be stacked by more than 90 layers with this kind of structure.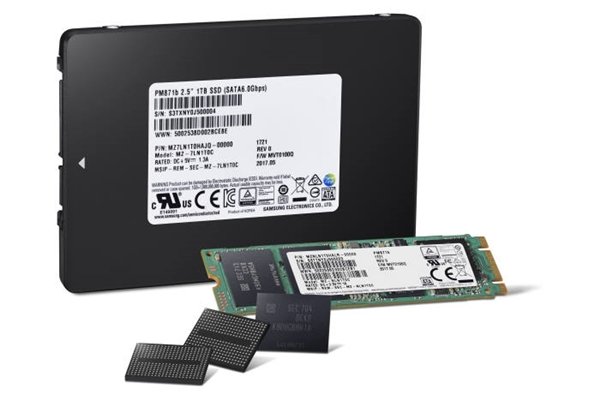 This new product sends 1Gb data per second through ultra-fast operating circuit design and its speed of recording data into a cell (tPROG, the Programing Time) is 500 µs which is about 4 times and 1.5 times faster than 10-nano flat NAND and current 3rd generation 3D NAND.
Efficiency in electricity consumption for 4th generation V-NAND is also increased by more than 30% by lowering its operating voltage from 3.3V to 2.5V. 4th generation V-NAND has also increased lifespan of characteristics such as writing and erasing while reducing size of cells by forming thin-film CTF that can control by atoms and has increased reliability by 20% compared to 3rd generation V-NAND by implementing control technology (thinning channels) that minimizes data interference between two cells.
"In order to push forward commercialization of Tera 3D NAND flash memories, all of executives and employees have been concentrating on development of innovative technologies." said Vice-President Kyung Kye-hyeon of Samsung Electronics Memory Business Department Flash Development Room. "We are going to continuously provide solutions that satisfy global IT companies and consumers by developing next-generation products at the right time."
Samsung Electronics has developed more than 500 major patents regarding 3D NAND flash memories in the past 15 years and applied for these patents in many countries including the U.S. and Japan.
Staff Reporter Han, Juyeop | powerusr@etnews.com