Korea Advanced Institute of Science & Technology (KAIST, Chancellor Shin Sung-chul) has developed a technology that quickly collects and establishes 3D modeling information of large structures using drones.
KAIST announced on the 14th that a research team led by Professor Cho Sung-ho of Computer Science Department has developed a drone system that quickly gathers and models information of variety of structures in 3D without any previous information.
There are many times when drones have to go through same routes repeatedly with current 3D scanning technology because they have to work additionally on parts that lack information after they go monitor certain structures.
Research team has minimized repetitions of drones' movements by making jobs and operations priority in algorithm. They have made drones accurately scan structures from close distance and move onto a different location. By eliminating monitoring gaps that can occur during a scanning, it prevents repetitions of same routes in the future.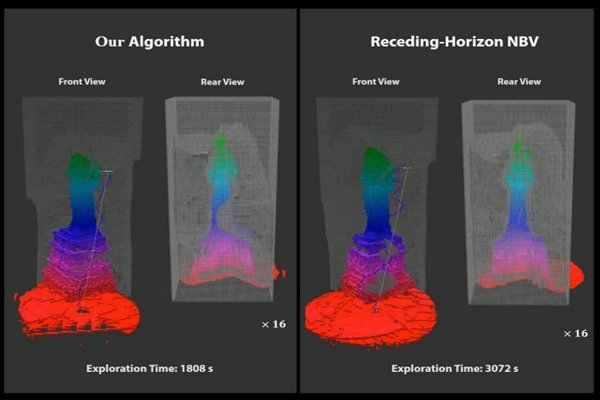 Research team also applied 'Next Best View' technology that understands the optimum location for monitoring. This technology finds out the most effective location for scanning by calculating location of a current drone and information of structures that need to be monitored.
Compared to current self-flying drones, time required to scan a structure can be reduced by about 40% when these technologies are used. During a simulation test on The Statue of Liberty, it only took 1,808 seconds to scan and monitor The Statue of Liberty when these technologies were used. On the other hand, it takes 3,072 seconds with current technologies.
Research team is going to research on variety of 3D modeling technologies that utilize drones in the future and it is also going to research on technologies that can instantly visualize information that is collected.
"By utilizing drones that freely move anywhere more effectively, we have developed a technology that can computerize information on variety of buildings and structures." said Professor Cho Sung-ho. "This technology will be able to reduce time and cost of establishing information as it can be used for construction industries and industries regarding safety and variety of industries that utilize contents."
Staff Reporter Kim, Youngjoon | kyj85@etnews.com