KT and Samsung Electronics have started developing technologies for quantum cryptography communication and quantum computers. As South Korea's biggest telecommunication and electronic businesses are jumping into quantum industries followed by SK Telecom, it is likely that this will be an inflection point for improvement in competitive edge of South Korea's quantum industries and that this will expand groundwork for quantum industries and quantum information communication technologies which are weak in South Korea. It is also likely that this will contribute to national strategies that are planning to promote quantum industry as South Korea's next new driving force.
KT is going to establish quantum communication application research center,which will be opened soon, at Korea Advanced Nano Fab Center in Suwon along with Korea Institute of Science and Technology (KIST). Quantum Information Research Group, which is operated by KIST, will also join KT and KIST. KT and KIST are planning to focus their capabilities in securing technologies that can commercialize quantum cryptography communication.
Samsung Electronics has started developing technologies for quantum computers. Previously, Samsung Advanced Institute of Technology selected quantum computer as one of GRO (Global Research Outreach) projects and finished collecting ideas early this month. Samsung Electronics will be in charge of developing technologies for quantum computers.
Samsung Electronics is going to start working on research with research teams from foreign universities in September and is going to provide up to $100,000 to these research teams. It is also going to co-possess IPRs (Intellectual Property Right) with them. It seems that Samsung Electronics is not simply providing support for development of technologies but it is making long-term investments in order to accumulate technologies.
Samsung Electronics' goal is to develop quantum error correction technology, highly effective quantum operation technology, architecture for quantum bit (qubit) equipment, and new quantum algorithms. This is a circumstantial evidence that Samsung Electronics wants to commercialize quantum computers early rather than just carrying out preceding research.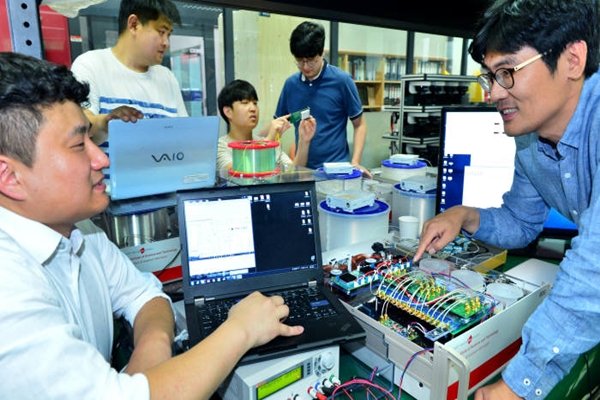 Quantum computer is a computer that utilizes quantum's 'superposition#' property and it is heard that its calculation is thousand and ten-thousand times faster than having many super computers connected to each other.
It is expected that competitions for developing quantum technologies between South Korean companies will accelerate as KT and Samsung Electronics have jumped into quantum industries.
Previously, SK Telecom developed quantum cryptography communication and quantum computer by managing Quantum Tech Lab at its laboratory in Bundang. It is likely that quantum technologies will be developed much faster as SK Telecom, KT, and Samsung Electronics are competing against each other.
By having these businesses jumping into quantum industries, it will be much faster for South Korean companies to catch up to other global companies in quantum industries. Their tasks are to develop high-degree technologies in a short period of time.
Global ICT (Information Communication Technology) companies such as Google and IBM started working on development of quantum computers since 10 years ago.
South Korean Government also recognized importance of quantum industries and established 'Quantum Information Communication Medium and Long-Term Promotion Strategies' in 2014. Ministry of Science, ICP and Future Planning established comprehensive plans that have developed such strategies and is pushing them as a national project.
"Not only does continuous participation of companies that represent South Korea improve competitive edge in quantum technologies but it will also be an important turning point for formation of industrial ecosystem and preparation of groundwork for continuous growth." said Chair-Professor An Do-yeol of University of Seoul's Electronic and Electric Computer Engineering Department. "Government support is a must in order for South Korea, which is a newcomer in quantum industry, to catch up to advanced countries and become a leading country in quantum industry."
Market Research Media is estimating that global markets for quantum cryptography communication and quantum computers will be worth more than $23.2 billion (26 trillion KRW) in 2025.
Staff Reporter Kim, Yongju | kyj@etnews.com