South Korea's telecommunication territory is going to be expanded into ocean. Installing base stations and sensors underwater will help in analyzing and utilizing underwater information such as salinity, water temperature, and tidal current. This technology can also be used for national defense such as detecting submarines underwater.
SK Telecom succeeded in demonstrating 'base station-based underwater telecommunication network' technology in ocean 10 kilometers far from Namhang, Incheon at water level of 25 meters. This technology is a part of 7-year research that is being carried out by SK Telecom and Hoseo University since 2015.
SK Telecom and Hoseo University dropped sound wave receiver and transmitter from two boats (for transmission and reception), which are 800 meters away from each other, 25 meters below from sea level and received and sent sensing information such as water temperature, texts and pictures, and information on virtual disaster. They were also able to send color pictures with sizes of 1MB or more.
"This is the first time to demonstrate underwater telecommunication method that creates base stations in the ocean." said Professor Ko Hak-lim. "By successfully sending variety of data that is gathered at base stations underwater to above ocean through underwater telecommunication, we now have major technologies for creating test beds."
SK Telecom and Hoseo University applied OFDM (Orthogonal Frequency Division Multiplexing), which is a major technology in 4G network, to sound wave and increased speed while reducing interference.
In the ocean where sound wave is used instead of radio wave, it is difficult o analyze characteristics of sound wave due to environment changes such as noise, ebb and flow of tide, and waves. Sound wave is ten thousand to hundred thousand times slower than radio wave and there is a high percentage of errors between reception and transmission.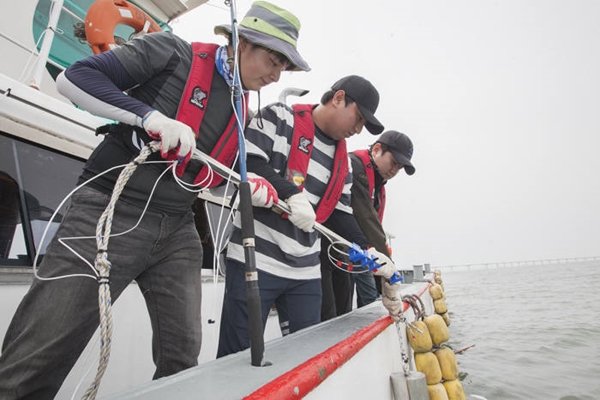 Base station-based underwater telecommunication network is composed of underwater sensor, underwater base station, and buoy on water. Information collected by a sensor goes through a base station and is sent to a buoy on water. Data then goes through satellites and LTE telecommunication network and is sent to the ground.
SK Telecom and Hoseo University are hoping that sound wave from underwater telecommunication network can reach up to 5 kilometers and that it takes 40kbps to send data. Life of a battery that is used for sensors and base stations is about 3 years.
Not only base station-based underwater telecommunication network can be used to collect base information such as ocean current, height of wave, tide level, water temperature, tidal current, salinity, and dissolved oxygen but it can also be used to collect information on water resources, earthquakes, submarines, and underwater resources. Its application is also very wide as it can be used for marine safety, environment monitoring, protection of water resources, ocean exploration, and national defense.
SK Telecom and Hoseo University are going to start establishing test beds around the Yellow Sea in October and are planning to finish establishing them by 2020. They are going to finish demonstration before September and are going to finalize developing telecommunication system between underwater base station and sensor in 2018.
The U.S., Canada, Europe, China, and Japan are currently researching on technologies for wired and wireless underwater telecommunication network with government support. South Korea is currently the only country to develop base station-based underwater telecommunication network.
Staff Reporter An, Hocheon | hcan@etnews.com