LG Electronics has added Google's artificial intelligence (AI) service to its ultra-premium home appliance 'LG Signature' and is planning to grow it as the center of Smart Home. Not only is it applying its own AI technologies but it is planning to work with global companies and expand its Smart Home Appliance business.
LG Electronics introduced its Smart Home Appliance that is linked to Google's AI speaker called 'Google Home' at 'Google I/O' event that was held in Mountain View, California on the 17th (U.S. time).
Google Home is applied with AI service called 'Google Assistant'.
When a person said "turn on LG air purifier' to Google Home during a demonstration, LG Signature air purifier was turned on automatically. Also Google Home notified status of air inside that was understood by LG Signature air purifier through voice.
LG Electronics has decided to apply Google Home to LG Signature refrigerator, washing machine, and air purifier and is also planning to apply this AI service to other Smart Home Appliances such as air conditioner, oven, dryer, and robot vacuum cleaner.
User can experience Google Assistant's variety of AI functions through LG Electronics' Smart Home Appliances. For example, one can control and monitor operation of Smart Home Appliances such as checking remaining washing time and having a refrigerator make more ice.
Starting with the U.S., LG Electronics is going to release its Smart Home Appliances that are linked to Google Home in major markets.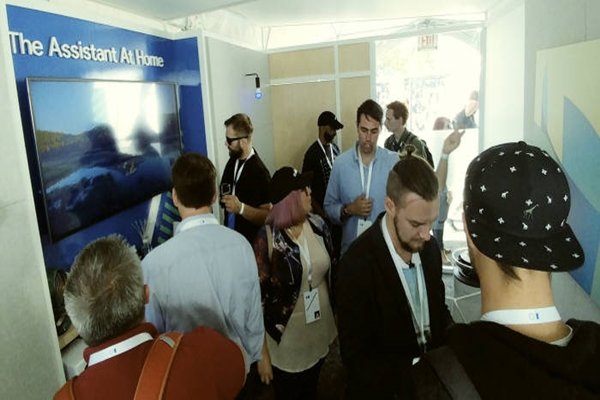 LG Electronics is going after Smart Home markets by applying variety of AI technologies to its products and it recently introduced AI service that was developed by its own technologies. 'Smart ThinQ Hub 2.0', which was introduced last month by LG Electronics, is a device that has voice recognition technology and converses with user. It operates home appliances that are inside of houses and notifies status of home appliances through voice. Users can operate their home appliances by giving commands such as "start washing" or "make wind of an air conditioner strong".
LG Electronics also developed Deep Learning-based AI solution called 'Deep ThinQ' and is applying it to its home appliances such as air conditioner.
"In order to provide LG's differentiated Smart Home solutions, we are going to continue to work with global companies from variety of fields." said Department Head (President) Song Dae-hyeon of LG Electronics H&A Business Headquarters.
Staff Reporter Kwon, Keonho | wingh1@etnews.com