LG Electronics announced on the 17th that it released 77-inch 'LG Signature OLED TV W' in South Korean market.
Thickness of TV is not even 6mm when it is installed. Thickness of 65-inch Signature OLED TV W, which was released first at the end of February, is less than 4mm. This is a product that has added ultimately quality to wallpaper design as if a picture is posted on a wall. In order to complete wallpaper design, LG Electronics separated and categorized all parts and speakers besides a screen as 'Innovation Stage'.
LG Electronics is going to release 77-inch LG Signature OLED TV W in other countries one by one and strengthen its leadership in premium markets. Its OLED TV is earning much profit for LG Electronics by bringing sensation to global markets for premium TVs. Due to OLED TV, LG Electronics' HE Business Headquarters recorded operating profit ratio of 8.8% in first quarter which is its highest operating profit ratio in first quarter ever.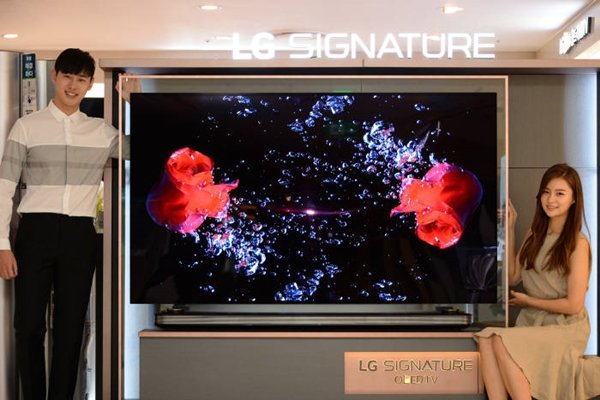 LG Signature OLED TV W was awarded 'Best of the Best' which is only awarded to one entry out of every entry at 'CES 2017', which is the world's biggest home appliance exhibition that was held in January of this year. Consumer Reports, which is a prestigious consumer magazine published by a consumer alliance from the U.S., recently gave 65-inch LG Signature OLED TV W highest score ever. Besides Consumer Reports, other influential media such as reviewed.com, What Hi-Fi, and Les Numeriques also praised LG Signature OLED TV W while giving it a perfect score.
Although market price of this product is $29,466 (33 million KRW) and is the most expensive TV out of LG OLED TVs, there had been continuous inquiries from customers even before its release and led to preorders. LG Electronics is going to provide $3,572 (4 million KRW) of cashback to customers who purchase 77-inch LG Signature OLED TV by end of the 29th of June. In that case then the actual market price will be $25,894 (29 million KRW) and LG Electronics is also going to give out its new clothing care system called 'LG Tromm Styler'.
"We are going to provide ultra-premium values to our customers through LG Signature OLED TV W that is on different dimension from other TVs." said Son Dae-ki who is responsible for LG Electronics Korea HE Marketing FD.
Staff Reporter Kwon, Keonho | wingh1@etnews.com