As it is likely that LG Display will make facility investments into 6th generation flexible OLED and large OLED panels for TVs during second quarter of this year, level of expectations for equipment manufacturers have grown. Although size of its investment was relatively small compared to Samsung Display which has aggressively invested into its A3 production line, it seems that LG Display will accelerate its investments starting from second quarter.
According to industries on the 11th, LG Display is going to carry out second step of investment into E6 line, which mass-produces 6th generation flexible OLEDs, sometime either this month or next month. Although process of bringing in equipment according to first step of investment has finished yet, it seems that LG Display is planning to accelerate process of establishing production line by carrying out facility investment in advance.
LG Display invested $1.77 billion (1.999 trillion KRW) as part of first step of investment with a goal of having capability to produce 15,000 flexible OLEDs per month and is planning to operate E6 line in second half of 2018.
Industries predicted that LG Display will extend its E6 line so that it can produce 45,000 OLEDs per month and that LG Display will either make single investment that can produce 30,000 OLEDs per month or make two phases of investment. It seems that amount of order will be between $1.33 billion and $2.66 billion (1.5 trillion KRW and 3 trillion KRW).
It is rare that an additional investment s made before first step of investment is finished. Generally, a company carries out test operation according to a first step of investment and examines yield and others and makes additional investment after verifying that there are no problems regarding an item that it is making investments into. However LG Display is skipping such steps and is making bold investments.
Industries believe that LG Display is making a rapid progress in investments for E6 because it is trying to quickly secure amount of supplies it is going to supply to Apple as much as it can. E6 is a line that produces small and medium flexible OLED panels for Apple. It seems that LG Display is examining its technologies based on E6 line which is being prepared to make mass-production.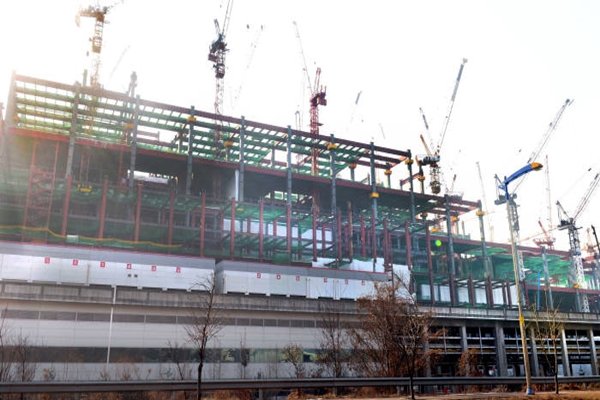 "Risk of production from E6 will be much smaller by using CANON TOKKI's deposition equipment, which has its ability for mass-production verified through E6 line, and South Korean deposition equipment, which is attempting to try mass-production for the first time through E5 line." said a representative for an industry. "It seems that LG Display believes that there won't be any huge problems in raising level of mass-production of E6 line even when it examines process technologies and yields based on E5 line."
Level of interests from industries towards orders of equipment that will be used for P10 line, which is located in Paju, has also grown. It is estimated that LG Display will start ordering equipment at the end of second quarter or early third quarter and primarily its major customers that are ready to deliver equipment for 10.5th generation OLEDs are preparing for such orders. As LG Display recently modified its strategy towards increase in percentage of investments towards 6th generation flexible OLEDs, suppliers of equipment for 6th generation flexible OLEDs are also paying their attentions towards LG Display.
Initially LG Display announced that it will invest $8.85 billion (10 trillion KRW) into P10 line.
As industries can now see that LG Display will invest both into small and medium and large OLED production lines, it is likely that its major equipment partners will make significant performance in second half of this year and next year. As Samsung Display has been making large investments into its A3 line, benefits for LG Display's partners have not been relatively significant.
When LG Display starts its investments, it is likely that its major equipment partners such as Jusung Engineerng, Invenia, TOP Engineering, Avaco, and Viatron will benefit from such investments.
"Level of interest from markets towards Samsung Display's partners and LG Display's partners will be even bigger starting from second half of this year." said a representative for an industry. "Industries need to see what kind of performance Samsung Display and LG Display will make in South Korea and China."
Staff Reporter Bae, Okjin | withok@etnews.com