Hyundai Motor Company is going to replace its entire lineup of SUVs with new models next year in order to strengthen its competitive edge in markets for SUVs where number of demands is growing. Hyundai Motor Company has set a goal to have 40% of its global sales come from SUVs by putting small-SUV 'KONA', which will be released this year, and new lineup of SUVs in the front.
According to Hyundai Motor Company on the 8th, Hyundai Motor Company is going to carry out full model change on its mid-sized SUV 'Santa Fe' next year. It is going to apply Hyundai Motor Company's new SUV family look and improve powertrain of new 4th generation Santa Fe (Project name: TM).
New Santa Fe will have similar design as KONA in order to secure identity. Hyundai Motor Company is going to apply cascading grille in order to emphasize its identity. It is also going to apply LED daylight running lights on the top and separable lamps that position each headlamp on the bottom and is planning to apply this design to its entire lineup of SUVs.
New Santa Fe will be the first Hyundai SUV to have an automatic transmission. Along with R2.2 e-VGT Engine, they will improve driving performance and mileage of new Santa Fe. Its suspension will strengthen safety of driving by having front-wheel McPherson strut and rear-wheel multi-link. Size of new Santa Fe will be bigger than the size of current Santa Fe and its inner space and trunk space will also be bigger due to increase in wheelbase.
Hyundai Motor Company is going to release new Santa Fe in South Korean market in early 2018 and in North American market during second half of 2018.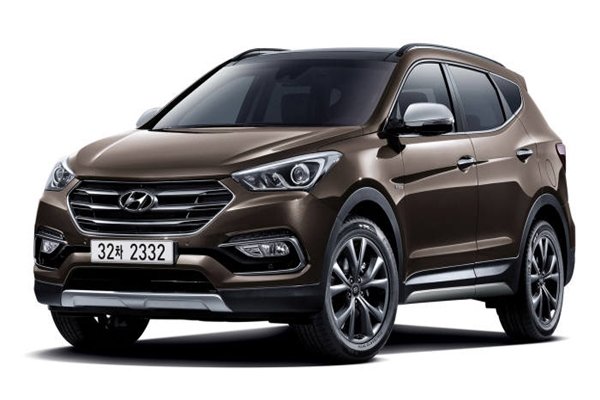 Hyundai Motor Company is also going to introduce new Maxcruz, which has longer wheelbase than Santa Fe while sharing a same platform with it. New Maxcruz will have entire same design as new Santa Fe but will be bigger. Although Hyundai is only selling six-passenger model currently, it is preparing variety of models such as seven and eight-passenger models. In North American market, Maxcruz and Santa Fe will be released as 'Santa Fe' and 'Santa Fe Sports' respectively.
Hyundai Motor Company is also going to carry out facelift (partial change) on its SUV 'Tucson'. After its 3rd generation model came out in 2015, it is hugely popular in South Korean and European markets. However Hyundai Motor Company has decided to carry out early facelift as sales volume of Tucson has slowed down little bit due to recent popularity of B segment (small) SUVs. Facelift model of Tucson will be released in South Korean market and it will also be introduced in European and North American markets.
It is heard that Hyundai Motor Company has decided to change all of its models by coming to a conclusion that its competitive edge has fallen due to old models of its entire SUV lineup. It sold 76,917 Santa Fes in South Korean market last year which is about 17.2% decreased compared to 2015. Sales volume was reduced by more than 25% until April of this year. Sales volumes of Maxcruz were also reduced by 8.8% and 24.4% in 2016 and 2017 respectively.
Although sales volumes of these two models increased by more than 54% in North American market, which is a major market for these models, high incentive has become a major cause of reduction of profitability. Although average month sale of Tucson was 4,784 in Tucson's first year of release, it has decreased to 3,247 this year.
"As global markets for SUV are showing growth, it is very important to introduce new models in order to secure competitive edge." said a representative for Hyundai Motor Company. "Even out of our lineups, percentage of sales of SUVs is increasing every year and it will be possible for percentage of sales of SUVs to reach 40% for the first time when we introduce KONA and new models next year."
Staff Reporter Ryu, Jongeun | rje312@etnews.com