KAIST has developed additional encryption technology that maximizes security of 'Tor' which is widely used to protect personal information on internet. It is likely that this technology will be actively used for internet security of personal users, development of applications of security companies.
KAIST (Korea Advanced Institute of Science and Technology, Chancellor Shin Seong-cheol) announced on the 24th that a team led by Professor Han Dong-soo of Electric Engineering Department along with Professor Kim Tae-soo of Georgia Tech. has developed 'SGX Tor' technology that can be applied to Tor communication system.
Tor is 'anonymity network communication system' that encrypts IP address and connects to internet anonymously. Currently it is managed through contribution and self-participation by an American information civil rights group called 'EEF (Electronic Frontier Foundation)'. Although some raised problems when it was used for certain internet crimes, its purpose is to protect personal information. It plays a role of controlling certain countries and organizations on internet and is currently controlling many countries and organizations. It blocks access by tracing a particular person's location and a form of internet connectivity.
Tor sends encrypted information by using 'relay data node', which is provided by global personal user, and makes hard for this information to be traced. However it is impossible to maintain perfect security because encryption is temporarily lifted while going through relay node's CPU calculation. Information that has encryption lifted remains in a main memory.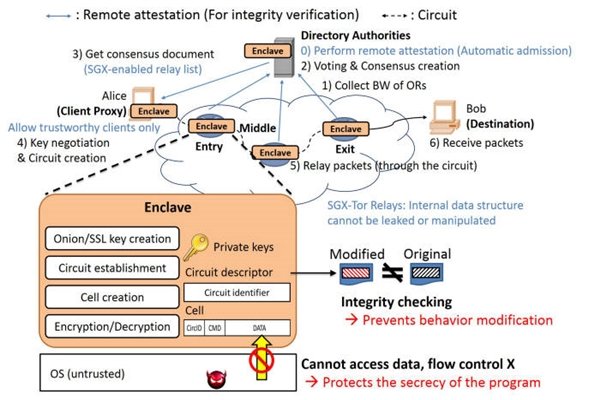 Research team applied 'double encryption technology' to SGX Tor and has maintained security. This technology leaves encrypted information to relay node by applying double encryption to information from when this information is created.
This technology is based on Intel's SGX (Software Guard Extension) function. SGX is hardware security function that was applied by Intel since 'Skylake CPU' and can apply double encryption on information. Research team has added a technology that encrypts important information to SGX. Research team has maximized calculation speed while information is being sent by applying double encryption on necessary information including personal encryption key.
Research team recently introduced this technology at 'USENIX NSDI', which is the major society for network system and is currently looking to transfer this technology to internet security solution companies so that they can use it in actual industries.
"Level of usage of Tor technology increases as level of importance of personal information increases." said Professor Han Dong-soo. "We are already discussing with few South Korean information security companies about transferring this technology."
Staff Reporter Kim, Youngjoon | kyj85@etnews.com