Hyundai Motor Company has chosen Toyota, which is leading global markets for hybrid cars, as its competitor and is carrying out competitions per segment. IONIQ Hybrid surpassed Toyota's Prius in efficiency by recording higher mileage last year. Hyundai recently released Grandeur IG Hybrid and is planning to surpass Lexus's main model called 'ES300h'.
Grandeur IG Hybrid, which is applied with Hyundai Motor Company's 2.5th generation hybrid system, is a vehicle that has efficiency in mileage, excellent drive performance, and luxuriousness. It minimizes intervention of an engine by having improved 2nd generation hybrid system, which is applied to Sonata and K5, and maximizes increase in mileage. It also has ADAS (Advanced Driver Assistance System) and safety and convenient specifications that surpass ES300h.
Grandeur IG Hybrid Exclusive Special with full options, which is considered as a vehicle that has the best specifications compared to other vehicles with same level, went on a test-drive of 80km that went back and forth between Mayfield Hotel in Gonghang-dong and White Block in Paju. More than 90% of this test-drive was on freeways and it was suitable to examine Grandeur IG Hybrid's safety and mileage on freeways. However it was difficult to examine mixed mileage since this test-drive was not much on city streets.
Compared to current internal combustion models, there are only two parts that are different for exterior design of Grandeur IG Hybrid. First of all, it has 17-inch aerodynamic alloy wheels that are exclusively for hybrid cars. These are wheels that are applied with aerodynamic in order to increase efficiency in mileage. Also it has 'Blue Drive' emblem that is attached on the side of Grandeur IG Hybrid and 'Hybrid' emblem that is attached at the right end of its trunk.
Excluding its dashboard, its interior was also not too different from current models. Just like a hybrid powertrain, its dashboard is designed so that one can check internal combustion and motor, and status of a battery at once. Size of its space inside was roomier than ES300h. Especially there was still enough room around knees and on top of a head in backseats even when an adult with height of 180cm sat there.
Part that caught the most attention from interior was real cork garnish. Garnish that is made from gathering bark of cork oak was used for door trim of a driver seat and a passenger seat. Grandeur IG Hybrid is the first vehicle that uses cork as a material for door trim or interior. Garnish, which is applied to a part where a driver's hand is touching when he or she is hanging his or her left hand on a door, allows one to feel message of eco-friendliness that this vehicle gives.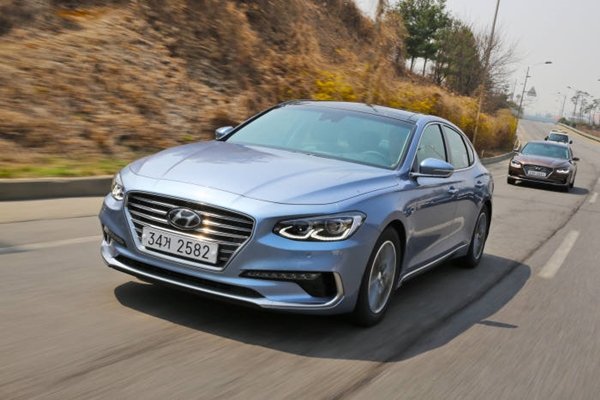 Another strength of Grandeur IG Hybrid has the biggest trunk space compared to other same-level hybrid sedans. Previous Grandeur HG Hybrid had its battery located behind of double seats which took a lot of trunk space. However this model has its battery located at the bottom of its trunk which expands capacity of a trunk up to 426 liters. This space can easily fit 4 golf bags and 2 Boston bags.
Grandeur IG Hybrid has maintained its weight while increasing battery capacity from 1.43kWh to 1.76kWh which is 23% increase. It has also increased range of operation of EV mode, which drives only on a motor, by improving efficiency of charge and discharge of its battery by about 2.6%. Hyundai Motor Company has improved environmental load logic which controls sections where EV mode operates by detecting how much electronics are using electricity and how much there is a change in output of engine in real-time, . Due to this, it did not use single gasoline after leaving Mayfield Hotel and until it passed Kimpo Airport.
Feeling of driving was not too different from internal combustion vehicles. Lexus Hybrid has strong feeling of excessive smoothness while it is on EV mode. It is as if one is skidding on top of ice while wearing skates. On the other hand, it does not feel too different when one is driving Grandeur IG Hybrid on EV mode or through an engine. Lexus Hybrid has excellent ride comfort while Grandeur IG Hybrid has less sense of difference while driving on different modes.
However Grandeur IG Hybrid's ride comfort is not too far behind of Lexus Hybrid. Hyundai Motor Company applied 'active booming control' technology that offsets engine's noise and vibration that occur from slow turning section of an engine that is used frequently while a vehicle is actually driven through reverse torque of a motor. It also triple-sealed doors of Grandeur IG Hybrid and equipped Grandeur IG Hybrid with double-layered glass that has noise insulation film built in.
Grandeur IG Hybrid also displayed stable drive performance on freeways. It is equipped with Theta II 2.4 MPI Hybrid Engine that exhibits maximum output of 159 horsepower and maximum torque of 21kg.m and high-output motor with maximum output of 38kW and maximum torque of 20.9kg.m. With these engine and motor, it did not lack any strength while it was going at a high speed that frequently surpassed 100km. Also operation of its half-self-driving function that utilizes 'Hyundai Smart Sensor', which combines LKAS (Lane Keeping Assist System) and ASCC (Adaptive Smart Cruise Control), surpassed expectations.
Mileage at the end of a test drive was 20.5km/l which is 4km/l higher than official mileage. However because this value is based upon a test drive on freeways, it is difficult to sorely base final mileage upon this value.
From perspective of performance and luxuriousness, Grandeur IG Hybrid did not fall too behind of Lexus ES300h. However competitive edge in brand between Hyundai Motor Company and Lexus is a separate issue because it still has many obstacles to go over to be established as a premium brand. Sales prices of Grandeur IG Hybrid Premium, Exclusive, and Exclusive Special are $31,073 (35.40 million KRW), $32,825 (37.40 million KRW), and $34,847 (39.70 million KRW) respectively. Fact that they cost about $13,166 to $17,555 (15 million and 20 million KRW) less than ES300h is one of its biggest advantage.
Staff Reporter Ryu, Jongeun | rje312@etnews.com