Procedure of terminating cable TVs' analog broadcasting has started and it has been 22 years since cable TVs were introduced in 1995.
Ministry of Science, ICP and Future Planning (MSIP) and Hyundai HCN announced on the 17th that it has entered preliminary process in order to end analog broadcasting starting from the 10th of May. They are planning to completely terminate analog broadcasting for entire are of Dongjak-gu until the third week of June. (Related article: page 8)
This is the first time when cable TVs' analog broadcasting is terminated in a particular region out of entire 78 broadcasting regions. Starting with Hyundai HCN, other major cable TV companies such as CJ HelloVision and TBroad are also planning to end their analog broadcasting. Not only analog broadcasting is going to be terminated but it is also predicted that this will accelerate switch to digital broadcasting which has been making very slow progress.
After termination of analog broadcasting, it will be interesting to see whether or not previous frequencies will be stepping stones for new launch of cable TV companies since they can be used for new services such as UHD broadcasting, VoD (Video on Demand), and Giga Internet.
Hyundai HCN is going to carry out preliminary notification on entire members in Dongjak-gu through variety of methods such as subtitles during broadcasting, banners, local newspapers, and texts for three weeks starting from the 17th.
It is also planning to respond to civil complaints that can occur during this process by increasing personnel such as call centers and others. Hyundai HCN has carried out tests on switching from analog to digital per types of housing and discussions with consultative groups about establishing guidelines based on technical incidences that can occur on scene.
MSIP has started demonstration project by applying opinions from consultative groups that are based on Hyundai HCN's plan of terminating analog broadcasting.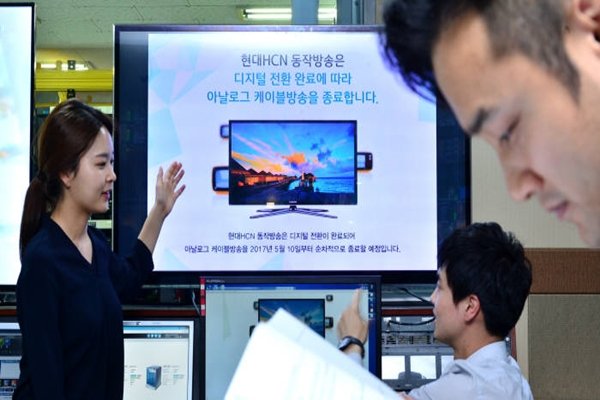 Consultative groups are going to have Hyundai HCN provide digital converters to cable TV members that have analog TVs for free so that there aren't any inconveniences regarding stoppage of transmission of analog broadcasting.
Termination of analog broadcasting is happening as consultative support group that is composed of South Korean Government, consumer groups, universities, and experts and local governments and companies have worked together and established detailed plans.
Starting with Hyundai HCN, other major cable TV companies are also going to terminate their analog broadcasting sometime during May.
5 MSOs (Multiple System Operator) such as CJ HelloVision, TBroad, Hyundai HCN, and D'Live, and CMB and 2 individual SOs (System Operators) are going to finalize their plans of terminating analog broadcasting sometime during next month.
"Termination of analog broadcasting is very meaningful in securing infrastructures that can provide next-generation services by utilizing frequencies from analog channels." said Director Cho Kyung-sik of MSIP's Broadcasting Promotion Policy. "MSIP is going to work on minimizing damages that can be done to viewers during our demonstration project."
"Just as cable TVs have opened diverse prospects of broadcasting channels, termination of analog broadcasting will become a turning point for cable TV." said CEO Yoo Jung-seok of Hyundai HCN. "We are going to make sure to leave positive precedents through complete termination of analog broadcasting."
Although switch to digital broadcasting for ground-wave network was completed in 2012, switch to digital broadcasting for cable TV companies is still insignificant. It is calculated that there about 6.77 million members of analog broadcasting out of cable TV users.
Staff Reporter Kim, Jihye | jihye@etnews.com