LG Electronics released artificial intelligence (AI) refrigerator, robot vacuum machine, and drum washing machine that are installed with Deep Learning technology on the 29th. LG Electronics' goal is to lead future markets by installing and introducing AI technology to its major products.
LG Electronics' new products are installed with its Deep Learning technology called DeepThinQ. AI home appliances analyze patterns of customers and surrounding environments on their own and operate under methods that are optimized for users.
Its AI refrigerator called DIOS understands patterns on how customers use DIOS and temperature and humidity of location where DIOS is located through variety of sensors. It checks number of times and when a refrigerator door is opened and automatically operates under power-saving mode during hours when doors are not typically opened. During summer time when temperature and humidity are high, it raises up bacteriostatic function to power mode so that food and drink do not go bad.
Its AI robot vacuum machine called Roboking Turbo Plus can find obstacles on its own. Customers who previously purchased Roboking Turbo Plus can also update Roboking software through Smartphone application and experience smarter cleaning performance.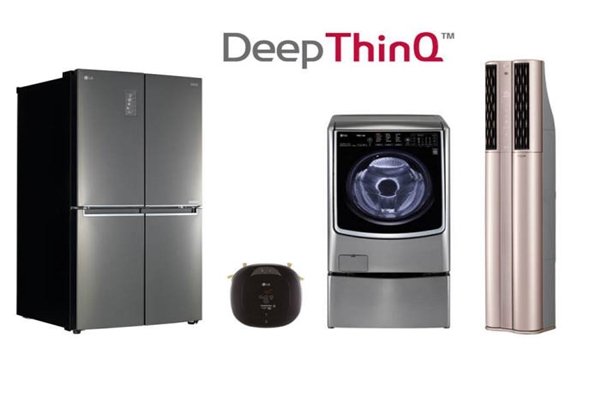 LG Electronics is going to release Tromm washing machine that is applied with AI next month. This washing machine can understand weather information on its own and finds and provides optimized washing options. In humid weather, it performs stronger spin-dry function while it adds more time for rinsing on the days when there are much fine dusts in the air. Because it can learn patterns on its own, it recommends options that correspond to certain situations after memorizing options that customers use often.
For example, it automatically classifies options for soaking and rinsing as recommended options if users tend to soak laundries or add number of times for rinsing often.
AI WHISEN Dual Air Conditioner, which was released by LG Electronics early this year, is installed with DeepThinQ-based Smart Care function. This air conditioner detects indoor environment through sensors that detect human body and understand location and number of people in a certain space. It then decides operation of air-conditioning room, air-conditioning mode, and air purification. It saves up to 20.5% of energy by using high-speed air-conditioning room, which only sends cool air to space where there are people, rather than using air-conditioning entire area.
"This will be the first year for LG Electronics' AI home appliances." said Department Head (President) Song Dae-hyeon of LG Electronics H&A Business Headquarters. "We are going to continue to lead AI home appliance markets by releasing home appliances that understand consumers continuously."
Staff Reporter Park, Sora | srpark@etnews.com