Autonomous robot called 'GoCart' that can deliver items on its own is soon to be commercialized.
YUJIN ROBOT (CEO Shin Kyeong-cheol) made an announcement on the 15th that it will start demonstration of GoCart as early as in April. YUJIN ROBOT first introduced commercialization version of GoCart at CES that was held in Las Vegas in last January.
Prior to demonstration, YUJIN ROBOT is going to carry out on-site tests at Singapore Airport and hotels starting from next week.
YUJIN ROBOT finished developing GoCart version 2.0 in 2015 and had collected feedbacks from users after carrying out tests at sanatoriums in Spain and New Zealand, Coca-Cola in Germany, and Eulji University Hospital.
Version of GoCart that will be used for demonstration is 2.2 and it has optimized formation of sensors based on data that is verified and even considered safety. It can deliver large items such as linen and waste and load items that weigh up to 300kg.
GoCart moves on its own after accurately analyzing space by using stereo cameras, 3D sensors, and ultrasonic sensors and avoids collision by understanding where people or obstacles are located. Users can simply load items on GoCart and select destinations for these items. When items reach destinations, they can be unloaded and delivery will be completed when 'confirm button' is pressed.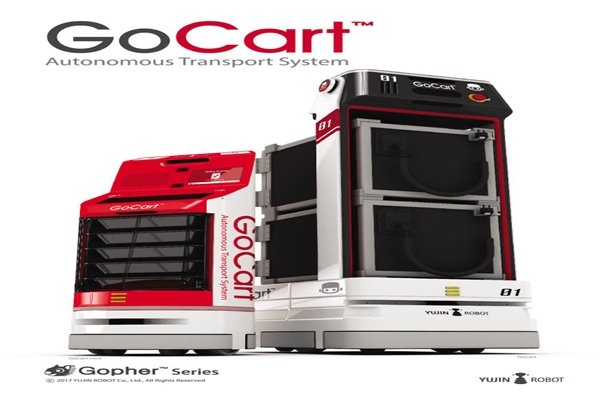 Compared to current delivery robots that are based on laser, GoCart has better competitive edge in price. It can be used right away on site without having to establish new infrastructures. It can move between floors by calling for an elevator on its own and it is also suitable in delivering light items such as medical samples, chemicals, snacks, drinks, and food. Besides these functions, it can also be connected to Smartphones, tablet PCs, and Smart TVs as well as internal system of Smart Building by connecting to IoT (Internet of Things).
After going through demonstration in second quarter, YUJIN ROBOT will prepare a system for mass-production by end of this year. It is currently preparing 'Go art Mini', which is used to deliver light items, with a goal of carrying out demonstration in second half of this year.
"Not only our robots can be responsible for simple tasks such as delivery of medicines and meals that need to be taken every day at particular time but they can also be responsible for delivering heavy items." said a representative for YUJIN ROBOT. "We are going to supplement parts that robots lack in through on-site tests and demonstrations."
On the other hand, YUJIN ROBOT is going to prepare areas for exhibition and experience center by moving to a new company building in Songdo by end of this year.
Staff Reporter Yoo, hangseon | yuda@etnews.com