First Tesla showroom was opened on the 15th and the first person to visit this showroom was Vice-Chairman Chung Yong-jin of Shinsegae Group. Vice-Chairman Chung visited Tesla store at 9 in the morning and examined the showroom and vehicles that were on display. He also met up with Vice President Nicolas Villeger of North Asia & SEA at Tesla Motors and had conversations with him regarding vehicles, charging facilities, and policies for about 20 minutes.
Vice-Chairman Chung was the first person in South Korea to purchase a vehicle from Tesla. He purchased 'Model S 85D' in 2013 and drove it for about 8 months and preordered 'Model X', which is SUV model from Tesla, this time. Model X will complete certification process by end of this year and will be delivered to customers in South Korea in 2018.
First Tesla Korea showroom is located on the second floor and the middle of Starfield Hanam. This location can minimize movements of customers as it is directly connected to second floor parking lot. Area of inside of the showroom is about 198m2 and is divided into an area for exhibition and an area for consultation. An area for exhibition seems more like an exhibition for IT devices rather than cars.
At this showroom, two 'Model S 90Ds' and a chassis that allows visitors to look at the bottom and a battery are displayed. On the wall, 'Design Studio' that allows customers to select vehicles that they want by looking at exterior colors, leather, and options is installed. Also large touchscreen allows customers to look at information on Tesla's vehicles in one view.
Tesla Korea's first showroom has 6 'product specialists' that provide one-on-one explanation on information of vehicles but do not directly sell vehicles. Sales will be in charge of 'owner advisor (salesperson)'. This is different from other automotive industry that has salesperson in charge of explanation of cars, sales, and after-service.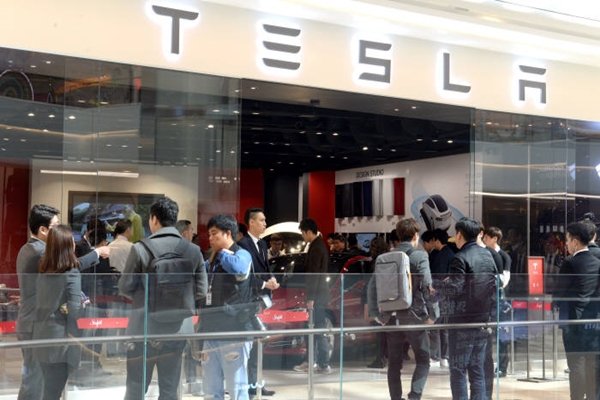 First Tesla Korea showroom was officially opened at 10 in the morning. Customers either sat inside of Tesla's vehicles or looked at the exterior of vehicles. Customers also formed their own options after looking at automotive data, charging time, and possible mileage from a touchscreen. Because electric vehicles have many differences compared to internal combustion engine locomotives, product specialists were bombarded with questions that are mostly regarding to methods of driving and charging. Model S 90D can drive up to 378km by charging it once and its market price in South Korea will start at $105,000 (120 million KRW).
Reason why Tesla Korea chose Starfield Hanam as first Tesla showroom in South Korea is due to 'availability for test-drive'. Starfield Hanam is directly connected to freeways such as Chuncheon Freeway and Olympic Freeway and freeways are optimum places for people to experience Tesla's electric vehicles that can go really fast.
Second floor parking lot, which is directly connected to the showroom, has 7 Tesla' destination chargers installed and allows vehicles for test-drive and other electric vehicles to be charged constantly. However it seems that customers will complain about a fact that test-drives are only limited to 8 people per day for 20 minutes.
Tesla Korea will open its second showroom in Cheongdam-dong on the 17th. Afterwards it is not going to focus on having more showrooms but rather it is going to focus on establishing charging facilities and service centers. Besides Starfield Hanam and the showroom in Cheongdam-dong, Tesla Korea is going to install destination chargers at 25 places such as Yeoju Outlet, E-Mart, and Chosun Hotel. It is also going to install super chargers at 6 places such as Gran Seoul and Intercontinental Hotel.
Staff Reporter Ryu, Jongeun | rje312@etnews.com