Technology that can diagnose and predict 9 major cancers such as lung cancer and colorectal cancer through feces or urine or blood has been developed. Because this technology can also be applied to other illnesses such as diabetes, liver diseases, and renal failure, it is predicted that it will help in early diagnose and prevention of illnesses.
MD Healthcare (CEO Kim Yoon-geun) made an announcement on the 15th that it has developed a model that utilizes microorganism nano-vesicles to diagnose and predict major cancers. MD Healthcare is also going to develop next-generation medicines that utilize microorganisms that surpass limitations of current anticancer drugs.
This model utilizes nano-vesicles that are emitted from microorganism genes (microbiome) found in human bodies. Nano-vesicles are materials that secrete so that bacteria and cells can exchange information. Factor related to illnesses are also included when they continuously exchange information with human cells.
9 cancers such as lung cancer, stomach cancer, colorectal cancer, liver cancer, and ovarian cancer can be diagnosed through microorganism-derived nano-vesicles. Because this technology uses blood, feces, and urine that have many nano-vesicles, it can reduce cost of examination and financial burden for patients.
Credibility in diagnosis and prediction is also high. After going through clinical tests with Seoul National University Hospital, Ewha Womens University Mokdong Hospital, and Dankook University Hospital, accuracy in diagnosis and prediction of lung cancer and stomach cancer and accuracy in diagnosis and prediction of ovarian cancer came out to be 95% and 100% respectively. MD Healthcare has increased credibility by adding diagnosis marker and amplification technology.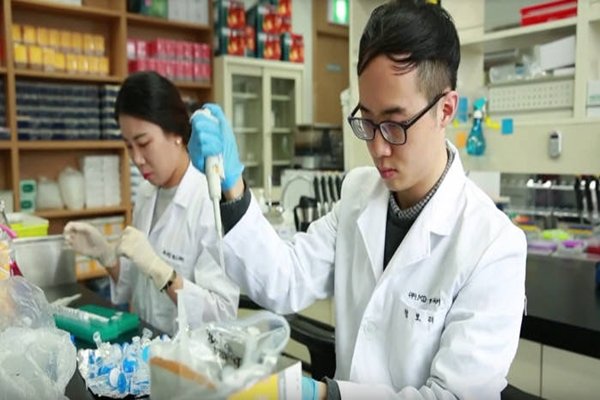 "Because diagnosis of cancer only examines genes from particular cancer, it is difficult to look at many cancers at the same time." said CEO Kim Yoon-geun of MD Healthcare. "Because microorganism-derived nano-vesicles provide variety of information regarding cancers, they can help in making diagnosis and predicting many illnesses."
Besides these cancers, MD Healthcare has also developed a service that diagnoses and predicts diabetes, liver diseases, heart diseases, and renal failure and provides results after analyzing blood, feces, and urine samples that are provided from patients. MD Healthcare is also going to develop a solution that allows patients to make self-diagnosis through diagnostic kit.
MD Healthcare is going to commercialize these services during second half of this year and ask Ministry of Food and Drug Safety for approval of these services in next month.
In long-term, MD Healthcare is going to develop immunity medicines that utilize microorganism-derived nano-vesicles for allergies, diabetes, and anticancer drugs. Its ultimate goal is to present methods of treatment utilizing food. Unlike human genes, microorganism genes can change depending on environment. If they are exposed to good air and food, they can also become healthy.
"We are going to provide fundamental treatment through food." said CEO Kim. "We are also going to develop fermented food per illness after observing a fact that fermented food such as kimchi and soybean paste is beneficial for microorganisms in human bodies."
Staff Reporter Jung, Yongcheol | jungyc@etnews.com