5 consortiums such as KT and POSCO ICT have been preliminarily chosen as the ones that will be in charge of installing and operating chargers for 9,700 electric vehicles that belong to households. In order to expand supply of public chargers, South Korean Government is going to provide differential subsidy depending on how public chargers going to be for the first time. Also for the first time, it selected consortiums by having them bidding for projects regarding supply of chargers.
Ministry of Environment made an announcement on the 8th that it has selected EVERON (ULVAC Korea), GNTEL (Klinelex), POSCO ICT (Joongang Control), Korea Electric Vehicle Charge Service (KEVCS) (PNE System, PNE Solutions), and KT consortium (Signet, Powercube) as preliminary negotiators after going through 'Bidding for 2017 Electric Vehicle Charger Supply Project'.
These consortiums will receive $26.0 million (30 billion KRW) from South Korean Government and are going to install and operate 9,700 chargers. If these chargers are open to all public, South Korean Government is going to provide $4,325 (5 million KRW) per charger. For chargers that are partially available such as for apartments and for chargers that are only available for independent houses, it is going to provide $3,460 (4 million KRW) and $2,595 (3 million KRW) respectively.
Although amount of subsidy for individual charger has decreased compared to the past, consortiums can actually receive more if they install public chargers. People who purchase electric vehicles can select one of 5 consortiums from Korea Environment Corporation's (KECO) homepage and register for installation of chargers.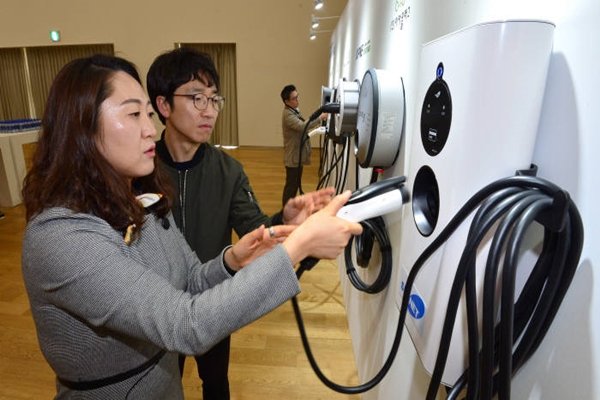 It is expected that these consortiums will carry out variety of services in order to attract consumers.
It seems that KT is going to attract customers through chargers with high competitive edge in price and models that are linked with its mobile network service.
POSCO ICT and KEVCS, which are businesses for public charging services, are likely to emphasize differentiation by linking chargers with current services. They are also going to add separate public economic model services.
EVERON is going to link chargers with infrastructures that are utilized for its electric vehicle sharing business and actively attract residents of apartment complexes. GNTEL, which is a new business, is planning to put out chargers that have competitive edge in price and are specialized for Jeju Island.
"Because it is hard to install a charger for an electric vehicle due to limited budget, we have focused on inducing expansion of public chargers." said a representative for KECO. "Rather than simply supplying chargers, there will be variety of models of services that reduce financial burden and attract more users."
Staff Reporter Park, Taejun | gaius@etnews.com