Illegal hacking proxy services are becoming very active. Users can purchase these hacking services just like purchasing products from internet shopping mall.
Number of messages that announce illegal hacking services and their prices on private message boards such as major portal cafes and blogs and YouTube is increasing at a very rapid rate. "After amount of circulation of ransomware increased in 2015, number of illegal hacking services has also increased in South Korea." said an expert in security. "Bitcoin that guarantees anonymity has given land of opportunities for illegal hacking services."
These services have become a form of business models as cyber criminals are either selling tools that will enable hacking or proxy services. Non-experts can easily abuse them as these services provide tools and ways to attack DDoS, database, and websites.
Costs for a request for a hacking service and tools for hacking are $434 (500,000 KRW) and $43 (50,000 KRW) respectively. These services advertise that it will cost $8.69 (10,000 KRW) to bypass antivirus software such as V3, ALYac, and Naver Vaccine that are mostly used in South Korea once and are selling a source for a program that will bypass these software at $130 (150,000 KRW). They also sell and purchase zombie PCs. They sell a zombie PC in South Korea and other Asian countries for $0.26 (300 KRW) and $0.43 (500 KRW) respectively. Also they are selling a zombie PC in North America and Europe for $0.61 (700 KRW) and $0.87 (1,000 KRW) respectively and have chosen different prices for zombie PCs depending on locations.
Sellers usually distribute malwares so that they can turn PCs in South Korea and other countries as zombie PCs that are controlled by hackers. For example if a buyer pays $2,610 (3 million KRW) to purchase 10,000 zombie PCs in South Korea, he or she can carry out DDoS attacks on target sites by utilizing them.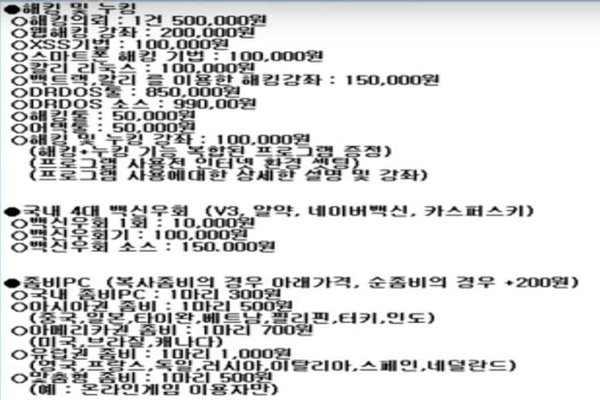 Services that install malwares into Smartphones have also appeared. When a seller receives a request, he or she sends a text that is included with URL that installs malwares into a particular Smartphone.
Cyber criminals are desperate in advertising their products and services as they upload videos that show current state of zombie PCs that they currently control. These criminals usually communicate with customers by utilizing foreign internet services such as Gmail, QQ Messsenger, Skype, Twitter, and Facebook and utilize foreign services that are difficult to trace.
A way that these criminals can receive payments from buyers is through Bitcoin. Cyber criminals, who had utilized fake accounts in the past, have turned their eyes to Bitcoin that is difficult to trace and recently increased price. However it is not a guarantee that actual attacks are carried out even when buyers pay sellers through Bitcoin and purchase hacking services. There are many scammers that disappear after just receiving payments through Bitcoin.
As number of hacking proxy services has increased, number of malwares that are produced by these services has also increased. "Rather than number of malwares that are produced by major cyber hacking groups, number of malwares that are produced by hacking services in South Korea is increasing for couple of years now." said a representative for a South Korean antivirus industry. "They are trying to induce infections from malwares in order to increase number of zombie PCs for sale."
"People who sell tools for hacking or upload announcements that induce contracts for hacking services are punishable for violating 'laws regarding security of information and information communication network'." said a representative for National Police Agency. "It is not easy to crack down these services because people in South Korea usually use private message boards and services that have servers in foreign countries."
Staff Reporter Kim, Insoon |insoon@etnews.com