South Korean Silicon Valley called 'Software (SW) Valley' will be established in Second Pangyo Techno Valley. Relevant organizations such as SW associations and groups and SW companies such as SW laboratories and startups will enter this valley and establish SW ecosystem that links business, education, and support.
According to South Korean Government and Korea Software Financial Cooperative (KSFC) on the 5th, SW Valley will be established on the old roadwork site of Second Pangyo. They are going to induce success from SW startups and venture companies by linking organizations such as startups, financial companies, and associations and groups with innovative companies. About $130 million (150 billion KRW) from South Korean Government's contribution and KSFC's fund will be invested into this valley which is expected to be constructed by December of 2019.
This valley will be formed of Business Tower and Support Center. Each plottage and total area will be 6612m2 and 25,786m2 respectively in total of 13,224m2 and 51,572m2 respectively. They will go from first floor in underground to sixth floor above ground.
Business Tower will create a space where SW companies can be integrated and coexist per level of growth. 40% of this building will be provided for companies that are starting to grow and startup companies and they will be located at the bottom of this building. Successful and innovative companies will be placed at the top of this building and they will occupy 40% of it. Rest of 20% will be used for public facilities such as international meeting room and conference room. South Korean Government and KSFC are planning to give motives for success by placing companies based on level of growth.
South Korean Government and KSFC are also going to create an information hall for SW with a size of 1500m2. This hall will be formed of a history hall for SW industries, an exhibition hall for new technologies of SW, a creative space that triggers appreciations and inspirations from visitors, and an imaginative space for future technologies. "We are going to provide a space where SW companies can coexist and work together." said a representative for KSFC.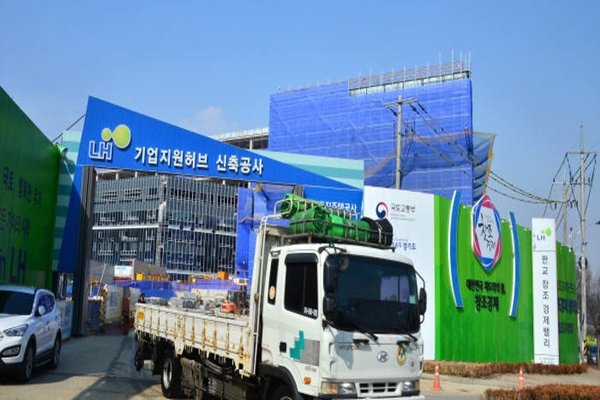 11 SW relevant organizations such as KSFC and Korea Software Industry Association will enter into Support Center. They will integrate venture certification organizations such as Korea Technology Financial Corporation and Small & Medium Business Corporation and will also attract branches of local organizations such as National IT Industry Promotion Agency. They will also be in charge of helping employees at this valley to grow by creating SW laboratories and education facilities. They will establish intellectual property center and overseas expansion support center and support business activities, comprehensive finance, and intellectual property.
After establishing this valley, South Korean Government and KSFC are going to stabilize this valley by integrating SW relevant groups and attracting SW startup companies as the first step. They are going to provide spaces to SW companies that are centered on research at 70 to 80% cheaper. As a second step, they are going to establish valley's own network and expand this network towards First Pangyo Techno Valley and Yangjae and Woomyun areas. As a third step, they are going to launch this valley as a global hub by co-participating in foreign exhibitions and increasing exchanges with leading companies in foreign countries.
This is the first time when SW Valley that links SW companies, relevant organizations, and support is established. While other advanced countries such as the U.S. were very active in creating integrated complexes in order to promote SW industries, South Korea did not have such SW valley. This is the reason why many talented individuals went out to foreign countries as creation of SW industries and SW education fell behind.
South Korean Government is planning to grow this valley as South Korean Silicon Valley and Mecca for startup companies and is also going to overcome limitations in supporting SW R&Ds and startup companies that are dispersed throughout Guro, Gasan, Pangyo, and Gangnam.
"Government's supports have dispersed as South Korea was the only one that did not have concentrated complex for SW until now." said a representative for SW industry. "We hope that SW valley that connects foundation to growth through one stop service will be created."
Staff Reporter Shin, Hyekwon | hkshin@etnews.com