Samsung Electronics introduced its new Galaxy Tablet series that are equipped with evolved S Pen and applied with technologies from AKG, which specializes in audio, and has presented direction of tablet PCs' progress.
Samsung Electronics held a press conference at Palau de Congressos de Catalunya in Barcelona on the 26th (Spain time) and introduced 'Galaxy Tab S3' and 'Galaxy Book'.
These two products have their performance increased and provide S Pens as part of their basic options so that they can be used for various purposes. S Pen has 0.7mm pen point and recognizes 4,096 different pressure levels and allows users to express things very delicately and in detail. Thickness of its penholder is about 9mm and S Pen provides same level of sense of writing as any other writing supplies and does not require separate charging. It provides 'magnifying glass' function that allows one to zoom into a section and 'Smart Select' function that allows one to cut parts from videos and save them as GIF files.
It is expected that S Pens will increase efficiency of work as they can be linked to Smartphones and tablet PCs and provides 'Samsung Flow' function that sends and receives contents and various messages.
Galaxy Tab S3 is based on Android and focuses on allowing users to enjoy media as it is equipped with audio technologies from AKG, which is a brand of Harman.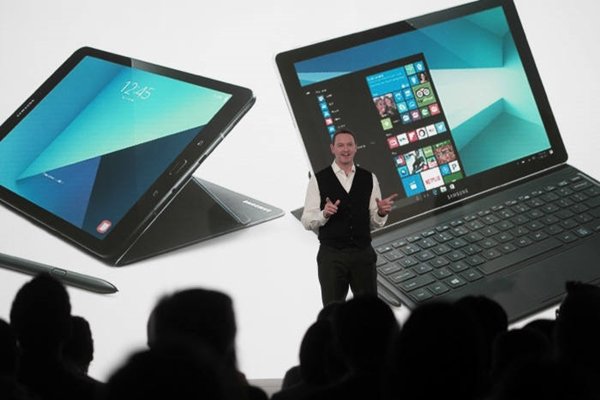 Galaxy Tab S3 is the first cooperative example with Harman after Samsung Electronics announced its purchase of Harman. Based on this cooperation, Samsung Electronics is going to apply AKG's technologies to its future Galaxy Smartphones continuously.
In result, it is likely that Galaxy S8 will be applied with AKG's technologies and provide earphones with high level of performance. Especially Galaxy Tab S3maximizes performance of multimedia as it is equipped with 4 stereo speakers for the first time in the world.
Galaxy Book is made so that it is specialized for work-related duties.
Galaxy Book is based on Window 10 OS (Operating System) and provides detachable keyboard so that it can be freely used for activities for productivity such as preparation of documents. It will be released with 12-inch and 10.6-inch displays and provide wider selection.
Galaxy Tab S3 and Galaxy Book are equipped with super AMOLED displays that can play 4K images and HDR (High Dynamic Range) function that express brightness and contrast more detailed. Both of these products support LTE models and are equipped with 13-megapixel front cameras and 5-megapixel rear cameras.
"Galaxy Tab S3 and Galaxy Book show evolution of tablets." said Chief Marketing Officer David Lowes of Samsung Electronics Europe. "These are products that do not compromise to anything such as multimedia, entertainment, efficient work, and design."
Staff Reporter Park, Jisung | jisung@etnews.com