One high school student launched an online shopping mall site after saving two million won. She reached monthly sales of over one hundred million won just in a year and had a steady increase in sales for ten years. Recently, she took the first step to grow into a global brand by entering the global market including the USA, China, Japan and many others.
These are the main records achieved by CEO Park Kyung-Ri of PAKNAMAE which has become one of the leading K-style brands. Last year, CEO Park launched websites in English, Japanese and Chinese through cafe24(cafe24corp.com/en), a global e-commerce platform.
The name of the online store has changed from PAKNAMAE to DAILY ABOUT(dailyabout.us), for those whose first language is not Korean. After launching multi-language online shopping mall sites, DAILY ABOUT is well received by customers all around the world.
"Currently, the global sales are on the rise." said CEO Park. She also added that she plans to implement local strategies by presenting new designs with a growth of K-style demand.
For the first few years after its establishment, CEO Park sold clothes aiming at female middle school and high school students. Teenagers' fashion styles such as school looks presented by her were under the spotlight and these styles became memorable for those customers who are now in their mid-20s. PARKNAME was naturally represented as fashion of girls.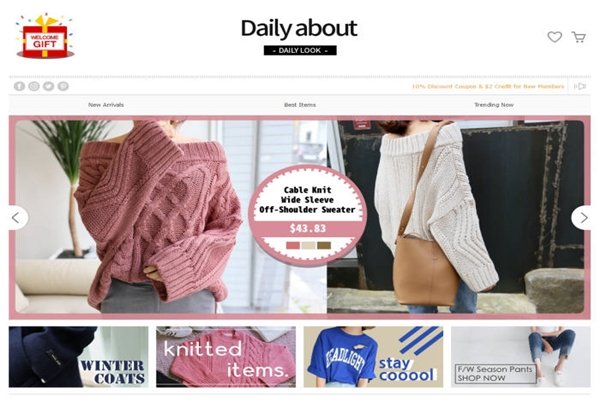 In 2014, CEO Park changed to target customers from female in 10s to 20s, resulting in good achievements with a reach of 70% of ladies in their 20s out of the total customers. She set a strong foothold for sales growth as she started to have customers in their late 10s, those who prefer mature style of clothing.
"Since I was a high school student at the time of the establishment, I was able to quickly identify fashion trends what high school students would prefer." said CEO Park. She also added, "As high school student customers entered in their mid-20s, strategies must have been changed with their ages, which were a new challenge."
CEO Park works with a design team to come up with sentimental styles, which focuses more on feminine aspect. The products are likely for every day rather than for special occasions.
Price competitiveness is also another competitive strength of DAILY ABOUT. Since the beginning of the business, it has provided products at lowest prices as possible for student customers thus receiving many reviews regarding high-quality products with reasonable prices.
CEO Park went on to say, "With our competitiveness, one of the long-term goals is to grow into a leading K-style brand. We will plan to increase brand awareness and sales through selling products on globally well-known online marketplaces like Tmall Global, frequently visited by potential customers."
Staff Reporter Yoon, Heeseok | pioneer@etnews.com