DIOCIAN (CEO Kim Doo-hwan), which is a company that specializes in music SNS, is planning to expand its range of business from Japanese and Vietnamese markets towards Chinese and Thailand markets and is going to increase number of countries that it provides services to from four to six including the U.S. by end of this year. It is also going to increase number of users of its service, which is currently at about 20,000, to about 500,000 by end of this year.
DIOCIAN is going to establish a Chinese branch in Shanghai shortly and hire employees for this branch. It is currently working on localizing its services in China by recently adding Chinese as one of languages to its system. DIOCIAN participated in TIPS program, which is a program that develops startup companies, and received support from this program. It is going to participate in series A investment rounding during second half of this year and look to enter Thailand markets.
DIOCIAN MNS (Music Network Service) called 'DIOCIAN' is a platform that helps artists to produce music tracks. Artists can use this platform to upload their tracks and can work with others to finish making music.
For example if someone uploads a track of a guitar play, other singers or musicians can add their tracks of songs or drum plays. Finished music can be uploaded on DIOCIAN's site or global service networks that are partners of DIOCIAN and be sold. Price per music is $0.61 and $1.29 in South Korea and the U.S. respectively.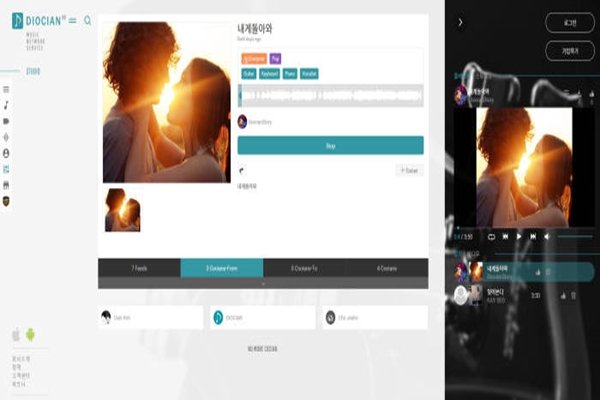 DIOCIAN has partnered up with Melon, Bugs Music, and Soribada from South Korea. If global companies such as iTunes, Line Music, and KK Music are included, number of sites that provides DIOCIAN's tracks comes to 45.
Profits from tracks are distributed to artists through automatic profit distribution algorithm, which was developed by DIOCIAN and applied by DIOCIAN as a patent. DIOCIAN decides on percentage of profit distribution per position with artists in advance.
DIOCIAN also supports advertisement of tracks and communication with fans. Any person can use DIOCIAN as current SNS.
DIOCIAN represented South Korea for Israel's international startup competition in 2015 called '2015 Start Tel Aviv' and took the first place in GIF (Global Innovation Festa).
"We are increasing our competitive edge in our platform by going after foreign markets." said CEO Kim Doo-hwan. "DIOCIAN is a service that increases its influence by having more users."
Staff Reporter Kim, Youngjun | kyj85@etnews.com