It is shown that 88.3% of South Koreans who are either 3 years old or older (3.2% increase from 2016) are using internet and 'household internet access rate' is 99.2% (0.4% increase from 2016).
Ministry of Science, ICP and Future Planning (MSIP) made an announcement on the 30th on the results of '2016 internet use factual survey' that investigated on South Korea's internet environment and current situation regarding internet use.
It was shown from a survey that the fact that internet access is possible in almost all households acted as the major index that made South Korea's household internet access rate number 1 in ITU's (International Telecommunication Union) ICT development index for 2 years in a row.
Household internet access rate is the percentage of households that have access to internet such as optical LAN, xDSL, cable modem, and mobile.
Number of internet uses in South Korea in 2016 was calculated to be 43.64 million people and it increased by 1.7 million people compared to 2015. Especially number of elderly internet users led the increase in number of entire internet users as number of internet users who are either 60 years old or older in 2016 was 5.06 million which is 1.36 million increase from previous year.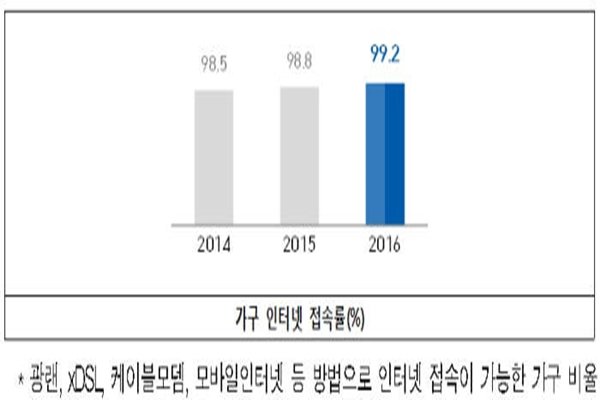 Currently 85% of South Koreans who are either 6 years old or older have Smartphones and 30% of South Koreans who are either 65 years or older have Smartphones. On the other hand, rate of households that have computers at home reached a highest peak in 2011 and has been showing downward trend (81.9% in 2011 to 75.3% in 2016) due to direct impact from mobile devices such as Smartphones being globalized rapidly.
It is shown that time of internet use for South Koreans is 14.3 hours per week on average and this number is increased by 0.6 hours from year before. It is shown that 98.9% of South Koreans use internet at least once per week.
Out of internet users who are either 6 years old or older, 92.5% of them use messengers and 99.2% from these users use KakaoTalk. Followed by KakaoTalk, it was Facebook Messenger with 29.2% and Line with 13%.
"I hope that results from these surveys will be used effectively in development of business models for companies and establishment of variety of policies for Industry 4.0" said Jang Seok-young who is the Director General of MSIP's Internet Convergence Policy. "By utilizing our outstanding internet infrastructures, we are going to support politically so that variety of new internet services such as O2O service can be created."
These surveys were done on 25,000 households and 61,000 South Koreans who are either 3 years or older and they also included other internet shopping malls, mobile games, internet banking, and rate of use on Cloud. Detailed information can be found on Korea Internet & Security Agency's Internet Statistics Information Search System (isis.kisa.or.kr).
Staff Reporter An, Hocheon | hcan@etnews.com