LG Electronics has launched 'Whisen Dual Air Conditioner' that is applied with artificial intelligence (AI) and its plan is to continuously apply AI to its other household appliances starting with its air conditioners.
LG Electronics held a presentation for 'Whisen Dual Air Conditioner' at its LG Twin Tower on the 16th and announced such plan. Department Head (President) Song Dae-hyeon of LG Electronics H&A (Home Appliance & Air Solution) Business Headquarters and Department Head (President) Choi Sang-kyu of Korea Business Headquarters attended this presentation.
LG Electronics applied its own Deep Learning technology called 'Deep ThinQ' to its new air conditioners and this technology allows products to learn human behaviors and environments surrounding products on their own. Its major function is its Smart Care function that provides pleasant breeze to spaces where people usually stay. These new air conditioners will figure out air conditioning modes and appropriate timing to operate air purification and operate these functions on their own.
To implement these functions, LG Electronics loaded these air conditioners with about 500,000 images of indoors as database. A camera that is installed within Whisen air conditioner records images of indoor for two weeks of use. By comparing these images with database, its air conditioners can accurately detect spaces that are presently occupied with people. By focusing its air conditioning function to areas that are necessary, they can save electricity up to 20.5% compared to air conditioners that provide air conditioning entirety of indoor. They also provide personalized breeze by automatically selecting strength and direction of breeze that comes out from two outlets for cold air and support converged household appliances that can be used in all four seasons since they provide air conditioning, air purification, humidification, and warm air.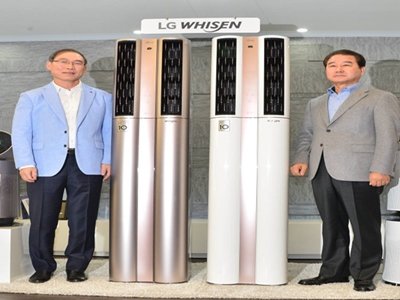 LG Electronics also differentiated connecting lines for interior and exterior units of its air conditioners. It has decided to use only copper material for lines of its new 2017 air conditioners and broke its practice of mixing copper with aluminum. Copper has twice lesser chance to oxidize in the air than aluminum and its solidity is three times stronger than aluminum. Also copper greatly lowers possibilities of corrosion of lines and leakage of refrigerant.
LG Electronics is planning to apply AI to variety of household appliances starting with Whisen air conditioners.
"While we had focused on selling household appliances individually in the past, now we are focused on connecting household appliances with each other." said President Song Dae-hyeon. "We are going to create an environment so that many products will be applied with Deep Learning technology by applying wireless internet to all our products that are going to be released this year."
It is believed that sales of air conditioners were booming in last year and even if its sales somewhat decrease this year, LG Electronics predicts that its sales will increase based on its built-in products.
"Due to South Korean Government's return policy on products with first-class energy consumption efficiency in 2016and prolonged summer season, our air conditioners were sold really well even after August. " said President Choi Sang-kyu. "Fact that supplies of 2017 was sold in advance in 2016 will impact this year's performance in air conditioner business. However because amount of supply for people that are moving into apartments is the biggest ever, we expect that amount of supply of built-in products will increase greatly."
Staff Reporter Park, Sora | srpark@etnews.com