Koh Young Technology, which is an inspection equipment manufacturer, is expected to break its highest performance for 7 years in a row. Its solution is establishing number 1 position in global SPI (Solder Paste Inspection) markets and pioneering new AOI (Automated Optical Inspection) markets.
According to industries and stock industries on the 15th, Koh Young Technology (CEO Ko Kwang-il) made its biggest sales and operating profit in 2016 due to improvement in sales of 3D AOI. This company's sales is increasing 7 years in a row since 2009 and it made $124 million (145.9 billion KRW) in 2015. Although growth of its sales was stagnant little bit in 2015, it is expected that its sales in 2016 and 2017 will make huge growth once again.
Its sales are making huge growth as AOI business, which is being pushed by Koh Young Technology as a new business, has become a regular business for Koh Young Technology. AOI is an equipment that inspects whether or not parts are mounted during SMT (Surface Mounted Technology) process. Koh Young Technology has challenged itself towards AOI markets based on its capabilities in 3D inspection. Although 2D inspection equipment was majority in AOI markets, 3D equipment, which is Koh Young Technology's strength is expanding amongst AOI markets.
SMT process must mount ultra-small parts and chips on top of boards (PCB and FPCB) and combine them with ovens. In order to inspect whether or not they are mounted, inspection equipment needs to compare images of process and acceptable goods fast and accurately.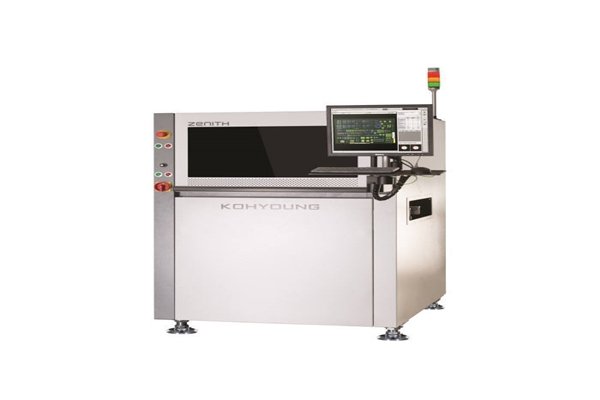 It is expected that number of demands for 3D inspection equipments will increase as parts are becoming smaller and as density is increasing. 3D inspection equipment can find out even height and volume of mounted parts. Current 2D inspection equipment differentiates acceptable goods through flat image.
"Number of demands for 3D AOI equipment will increase as finished product and components manufacturers focus on improving performance of their products and decreasing production cost." said an analyst of a stock industry. "Because Koh Young Technology is increasing its sales and number of customers from 3D AOI markets, it will be possible for its sales to grow more than 10% in 2017 and 2018."
Koh Young Technology's major competitive edge is its 3D scanning technology. It developed world's first 3D equipment in SPI markets and holds the number 1 position in global SPI markets. SPI is an equipment that inspects application of lead on top of boards before parts are mounted. Koh Young Technology pushed for AOI business based on its SPI technologies.
It is believed that its continuous positive performance in 2016 was also due to its AOI business. By maintaining its market shares in SPI markets, percentage of sales from AOI surpassed 40%. Stock industries are predicting that Koh Young Technology's market shares in AOI markets will increase as number of demands for 3D AOI equipment increase.
Koh Young Technology made $107 million (125.6 billion KRW) and $20.8 million (24.5 billion KRW) in sales and operating profit respectively by end of third quarter in 2016. Its sales and operating profit in third quarter of 2016 both increased by 14.7% and 69.1% respectively compared to third quarter of 2015. It is almost certain that it will break its previous highest performance if it did not have any huge negative factors in fourth quarter.
Staff Reporter Song, Junyoung | songjy@etnews.com