Network OS (Operating System) called 'N2OS', which was developed by a South Korean research team, is being verified for its compatibility with South Korean and foreign telecommunication equipment. Commercialization of N2OS looks to be in near future as it was applied to telecommunication company's network system and succeeded in trial operation.
ETRI (Electronics and Telecommunications Research Institute) applied 'N2OS' to switch of South Korean telecommunication equipment manufacturer called KTN, Woori Net's transmission equipment, and equipment of Edgecore which is a Taiwanese company and finished testing its compatibility with these equipment. It has expanded application of N2OS operating equipment which was only applied to certain switches in last year when it was being developed.
ETRI also succeeded in a trail operation by applying N2OS to SK Telecom's network system. "We are testing whether or not N2OS operates within white box telecommunication equipment that does not have software and securing its stability." said Ryu Ho-young who is the department head of ETRI Network SW Platform Laboratory.
N2OS is a South Korean network OS that was co-developed by ETRI and South Korea's equipment manufacturers for 3 years. It is based on open-source software and is used to implement switches or routers. It is a type of 'Window' inside of telecommunication equipment.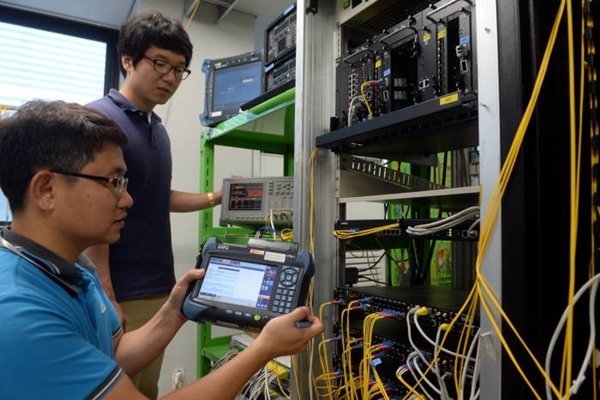 N2OS is still a prototype. When ETRI succeeds in commercializing N2OS, South Korean companies will depend less on foreign network OS. Users can implement network functions that they want by purchasing inexpensive white-box telecommunication equipment and installing N2OS. Because N2OS is expected to be sold 60% cheaper compared to foreign network OS, it will lower financial burdens for telecommunication equipment manufacturers.
Telecommunication companies can also lower their facility investments and this is why SK Telecom is interested in N2OS. "N2OS is still in a form of pilot project and is being tested for its compatibility with systems." said a representative for SK Telecom Comprehensive Technical Institute. "We will need to carry out additional verifications for actual application and commercialization of N2OS."
N2OS is facing its huge update in April in order to be commercialized as soon as possible. ETRI is planning to support open-type interface called 'OpenFlow' in order to implement SDN (Software Defined Networks), which is a next-generation network technology and is also going to support MSPP (Multi-Service Provisioning Platform) function and update OS-based Linux kernel. It will also actively participate in OCP (Open Compute Project', which introduces hardware technologies that are needed to establish and operate data centers, in order to expand base for equipment that can implement N2OS.
ETRI's development project will be finished by end of this year. If it does not have any more additional projects, it needs to commercialize N2OS with South Korean companies. "Although it all depends on market situations, we will be able to commercialize N2OS as early as in 2018 if we continue to work with South Korean companies." said Department Head Ryu.
Staff Reporter Kwon, Dongjun | djkwon@etnews.com