Huawei has established its first store in South Korea that will be responsible for AS (After Service) of its Smartphones. This is its first direct AS center after it entered South Korea's Smartphone markets in 2014. Industries are interested on whether or not Huawei will be able to change people's perception of AS being inconvenient for foreign-made Smartphones.

Huawei opened up its AS center in Mapo-gu on the 15th. It has placed engineers who finished official training and they will be responsible for consultation and repair. It also had its engineers from this AS center be in charge of other AS centers that utilize quick service and parcel service from convenience stores.
It also established an experimental zone within this AS center so that consumers can experience functions and performance of variety of electronic products that were developed by Huawei.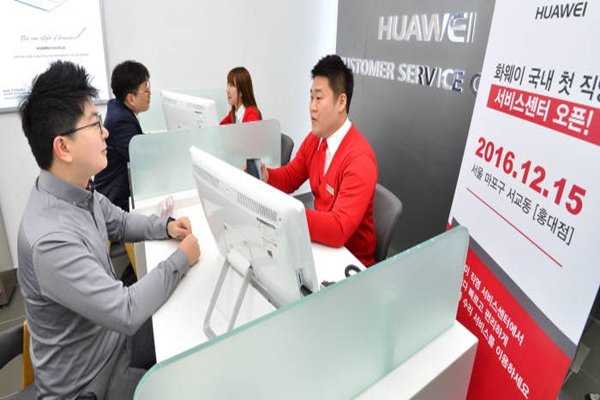 "As number of people that use Huawei's products is increasing in South Korea, we have opened up a direct AS center in order to show our gratitude." said Department Head Xiao Jin who is responsible for Huawei's device service sector in South Korea and Japan. "I hope that this AS center will bring Huawei and consumers in South Korea closer to each other."
A reason why Huawei, which had been implementing consignment operation for its AS centers, is establishing a direct AS center in South Korea is because it wants to provide more systematized and specialized services to consumers in South Korea and increase level of satisfaction of its brand.
In a long-term, Huawei's intention is to go after consumers in South Korea and to solidify itself in South Korea's Smartphone markets.
Only time when a foreign-made Smartphone manufacturer had operated its direct AS center in South Korea before Huawei was when Motorola had operated its center and withdrew from I in February of 2013.
Staff Reporter Choi, Jaepil | jpchoi@etnews.com