A start-up company, which was established only a year ago, has succeeded in entering a foreign markets with its body composition measuring instrument for Smartphones and it is planning to enter other markets such as the U.S., Europe, and South-East Asia as well.
OneSoftdigm (CEO Lee Dae-ho) made an announcement on the 8th that it recently signed off on an agreement with a company from Saudi Arabia called System Dome East regarding exportation of its body composition measuring instrument called 'One Smart Diet' worth about $3.26 million (3.8 billion KRW).
OneSoftdigm is a start-up company that was established last year after receiving support from Gyeongbuk SW Convergence Center's Local SW Convergence Product Commercialization Support Project and has succeeded in making exports in just a year from its establishment due to support from Gyeongbuk SW Convergence Center. It was able to make exports so quickly because it attended GITEX (Gulf Information Technology Exhibition), which was held in Dubai in October, with Gyeongbuk SW Convergence Center and met with buyers from Saudi Arabia.
One Smart Diet is a device is linked to a Smartphone and analyzes one's body fast. When a person holds two electrodes that are located at the front and the back of a device with both of his or her thumbs and index fingers, device measures his or her body fat by utilizing BIA (Bioelectrical Impedance Analysis). This is the first time when a body fat measuring instrument for Smartphones like One Smart Diet is made.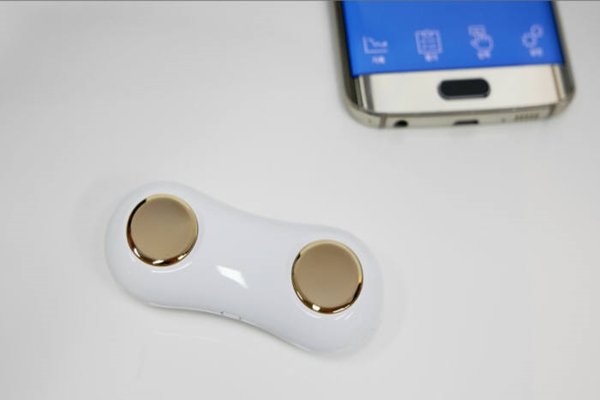 Level of accuracy in measurement for this device is very high as it is comparable to other body fat measuring instrument for medical purposes. When it was compared to a product that is for experts, it showed an accuracy of 98.8%.
Results of measurement are automatically recorded per period. By using these results, one can fix his or her daily behaviors such as diet control or way of exercise for his or her health.
When an application for Smart Diet is downloaded from an Android Smartphone, the device is automatically paired to a Smartphone through Bluetooth.
With this opportunity to export One Smart Diet to Saudi Arabia, OneSoftdigm is planning to enter other markets such as France, the U.S., and Vietnam and is currently meeting with buyers from these countries.
"In just a year removed from establishment, we are able to export great amount of our products to Saudi Arabia." said President Lee Dae-ho. "While focusing all of our capabilities into expanding our business towards other markets, we are also going to continuously invest into R&D in order to respond to markets for measuring instrument that are rapidly changing."
Staff Reporter Jung, Jaehoon | jhoon@etnews.com