SK Telecom is introducing Huawei's cell towers and this is expected to bring remarkable changes to overall structure of competitions between telecommunication equipment manufacturers. Because Huawei has competitive edge in price and technologies, its competitors are nervous about what kind of effect introduction of Huawei's cell towers will bring.
SK Telecom recently introduced its plan to bring Huawei's cell towers to major South Korean and foreign telecommunication equipment manufacturers and announced that it was just a normal meeting for a cooperation with an equipment manufacturer.
"Meeting between SK Telecom and Huawei was about discussion regarding introduction of Huawei's cell towers and for rest of equipment manufacturers, it was about SK Telecom requesting understanding, cooperation, and maintenance of security from other manufacturers." said representatives from multiple manufacturers.
SK Telecom announced that it has selected a particular metropolitan self-governing body as a region where it is going to install Huawei's cell towers. A reason why SK Telecom is selecting a province over a capital area such as Seoul is because it wants to minimize impact and opposition from Huawei's competitors.
SK Telecom had carried out BMT (BenchMark Test) since June for about 3 to 4 months and has come up with a decision to bring in Huawei's cell towers. Exact timing of contract is not heard and all SK Telecom has to do now is to prepare to bring in Huawei's cell towers.
SK Telecom considered many factors such as price, technical skills, and strengthening of cooperation. Because LG Uplus is utilizing Huawei's cell towers, it is possible that verification of performance will be carried out in order to conform to formality.
Industries believe that this is SK Telecom's strategy to put pressure on current equipment manufacturers regarding price because Huawei has competitive edge that is 20 to 30% lower than its competitors.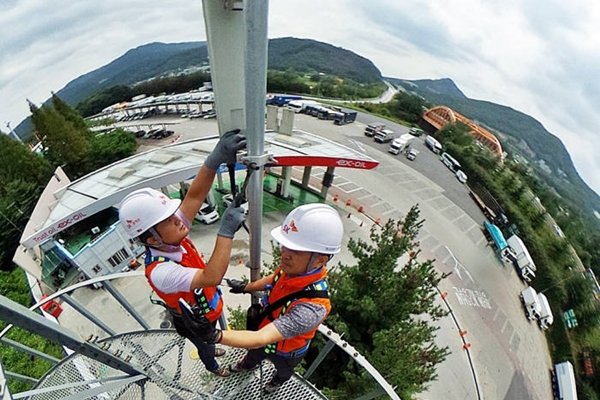 However industries think that this move is not made just to reduce cost. Some industries think that SK Group is planning to expand its Chinese businesses such as energy and healthcare.
If SK Telecom and Huawei sign off on a final contract, side-effects will be bigger than the time when LG Uplus was bringing in Huawei's cell towers. Huawei's competitors such as Samsung Electronics are predicting that it will be inevitable for them to reduce prices of their wireless equipment and be hit with lower sales.
Small and medium companies are worried that Chinese telecommunication equipment manufacturers will start to enter South Korean markets followed by Huawei. Huawei once supplied wired equipment including PTN (Packet Transport Network) to South Korea's 3 mobile network providers' backbone network.
"Due to special circumstances in South Korea, no providers other than LG Uplus use wireless equipment from China." said a representative for an equipment manufacturer. "If SK Telecom signs off on a final contract, Chinese products will quickly spread throughout entire telecommunication industries."
Because there are still concerns about possible security issues regarding equipment from China and it is becoming difficult for South Korean companies to enter Chinese markets, introduction of Huawei's cell tower equipment will cause considerable amount of stirs in South Korea.
On the other hand, some proclaim that South Korean companies need to be cautious about overanalyzing strategies that are made to improve competitive edge such as a private company's rationalization on cost.
"We are receiving many proposals from many manufacturers and it is true that Huawei was one of them to suggest its proposal to us." said SK Telecom. "Examining a possibility of cooperation is one of normal tasks and nothing has been finalized yet."
Staff Reporter An, Hocheon | hcan@etnews.com