'Braille Smart Watch' that was first developed by a South Korean startup company is going to be on global markets.
Dot is going to launch its 'Braille Smart Watch' in England on the 29th and start selling it in South Korea as well starting from early 2017.
Dot's wearable Smart Watch, which was developed for blinds, tells blind people about time, notifications, and messages through Braille slate that is located on top of a screen. 24 small pins that are built inside of a watch move through Haptic method and complete texts.
If Braille device that previously used by blind people weighed about 3kg, Braille Smart Watch is merely 33g and improves convenience of portability.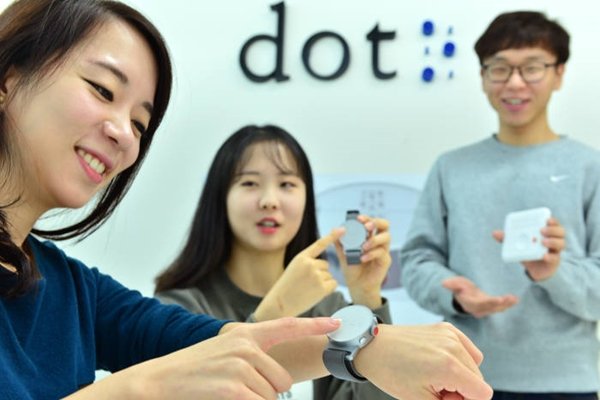 Before releasing Braille Smart Watch, Dot received orders that are worth $29.9 million (35.0 billion KRW) from England, Saudi Arabia, and Canada. Orders from South Korea were only 5% of all the orders that Dot has received and Dot is going to release its products in England first where it received most orders from. Store price of Braille Smart Watch in foreign countries is going to be $290 (340,000 KRW) while store price in South Korea is going to be about $256 (300,000 KRW).
AS (After Service) for Braille Smart Watch is going to be done by professional engineers from each country. When Braille slate is broken, AS is going to replace it with a brand new Braille slate.
"Dot's Braille Smart Watch is a product that is most suitable with a word 'eye free'." said COO Kim Ji-ho of Dot. "I hope that this product will be a meaningful product that aids blind people."
Dot is also planning to release 'Dot Pad' that allows blind people to read long paragraphs of Braille easily in 2020.
Staff Reporter Choi, Jaepil | jpchoi@etnews.com