MUMS (CEO Lee Sae-young), which is a company that specializes in food waste disposers, is planning to go after markets for industrial food waste disposers.
MUMS has developed MUMSR30 and MUMSC100, which are food waste disposers that will be used at B2Bs to dispose large amount of food waste such as 30kg and 100kg of food waste.
Industrial food waste disposers are meant to be used at restaurants or hotels where large amount of food waste is discharged.
MUMS believes that its products can reduce cost for discharging food waste which can cost from $84.54 (100,000 KRW) and up to $8453.6 (10 million KRW) per month for each store. On top of this, it uses eco-friendly method to eliminate food waste and is beneficial to environment.
MUMS eliminates food waste by utilizing microorganisms as they live inside of food waste and eliminate it by eating it. When residues are left over after microorganisms intake all of food, one can just simply eliminate residues by throwing them down a drain.
While other companies' food waste disposers that dry and ground food waste need to go through 'second disposal phase' where residues need to be thrown out again, products from MUMS do not have to go through such phase.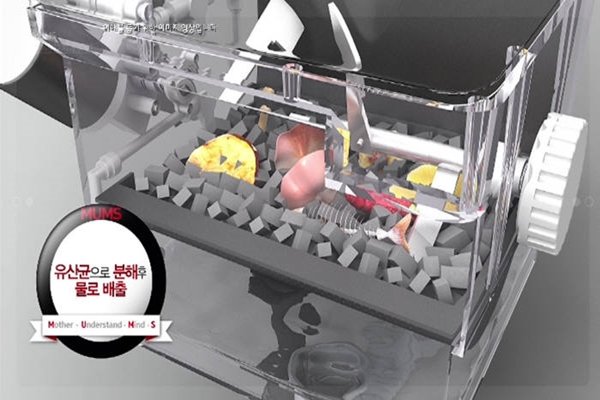 MUMS, which was established in 2013, has been accumulating know-hows by releasing food waste disposers for households and is now planning to release disposers for industries.
Markets for large food waste disposers are difficult markets to enter if one does not have confidence in its technical skills.
MUMS is performing R&D into microorganisms such as lactobacillus that is non-harmful to human body at a bio research institute that is located in Sejong-si and it only uses components that are made in South Korea for its products. It has 20 patents that are related to microorganisms that are either consigned or being consigned and 25 patents that are related to technologies for its products.
It is estimated that South Korean markets for food waste disposers were worth about $786 million (930 billion KRW) in last year. There is currently no exact statistics for markets for industrial food waste disposers. Although number of companies that are jumping into markets for food waste disposers for households is increasing, MUMS believes that markets for industrial food waste disposers are still open for any company to grab an upper hand.
"We already proved our excellence in South Korea and other countries by winning Minister prize from Ministry of Environment twice, Minister prize from Ministry of Trade, Industry and Energy once, and grand prizes from invention contests that were held in Switzerland, Hong Kong, and Taiwan." said a representative for MUMS. "Our goal is to make meaningful results by also going after markets for industrial food waste disposers."
Staff Reporter Park, Sora | srpark@etnews.com