CJ E&M is going to launch Asia's first one-man broadcasting TV channel. Its plan is to expand one-man broadcasting, which was only viewed through mobile devices and online until now, to TVs and grow South Korea's MCN (Multi-Channel Network) industries on full-scale.
CJ E&M made an announcement on the 23rd that it will launch DIA TV, which is a broadcasting channel that specializes in MCN and is made by single creator, on the 1st of January of 2017.
DIA TV will be composed of live and recording broadcastings. Real-time live broadcastings will be scheduled every day from 8 P.M. until 10 P.M and will have top creators such as Ssin Nim, Calary Girl, Lamuqe, Banzz, Shin Dong-hoon and others. DIA TV is CJ E&M's goal to increase timing for live broadcastings.
Original contents such as a virtual wedding program called 'Shinchae Contract' that casts Shin Dong-hoon and Chae Hee-seon and a cooking survival program called 'Cook or Dead' that are planned by DIA TV will also be aired. Popular videos that are made by creators that are under DIA TV will be re-edited and aired as TV programs.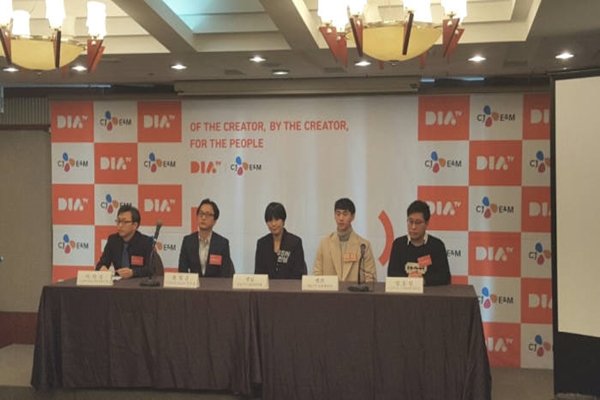 DIA TV will maintain its bilateralness in TVs as well. CJ E&M is going to release a mobile application at the same time it launches DIA TV. It is going to collect opinions from viewers through DIA TV application's chatting, voting, and quiz functions and apply them to broadcastings in real-time. Its strategy is to induce participations of viewers through TVs just like it has done through mobile devices.
"DIA TV will be the world's first to mutually link one-man TV channels with mobile applications." said Department Head Hwang Hyeong-jun of DIA TV Headquarters. "We are planning to create an environment where people can freely enjoy TVs without any boundaries in medias such as internet platforms, applications, and TVs."
A reason why DIA TV is expanding to TV is because CJ E&M wants to increase number of viewers for one-man broadcasting channels. Its plan is to lead in vitalizing MCN industries by securing mass appeal. At the same time, it wants to cultivate occupation of a creator and increase its value as a specialized occupation so that it can provide new opportunities for employments for younger generations who are striving to become creators.
"Generation of MPN (Multi-Platform Network) has now approached through establishment of TV channels for creators." said Director Lee Seong-hak of CJ E&M Media Solution Sector. "We are going to promote and support creators by forming a symbiotic ecosystem with them and contribute in creating employments."
CJ E&M, which started South Korea's first MCN business that supports creators in July of 2013, launched DIA TV that specializes in creator broadcastings in May of 2015.
Staff Reporter Cheon, Jiyeon | now21@etnews.com