Naver's self-driving test car is going to be test-driven on regular streets starting from 2017.
It is confirmed on the 21st that Naver is carrying out procedures to be issued a license permit by recently applying approval for temporary driving for its self-driving car to Ministry of Land, Infrastructure and Transport (MOLIT).
When data for safety is gathered enough to satisfy conditions for approval, it takes a month or two between requesting for approval to receiving license plate. It is heard that Naver's car is currently being tested for its performance by Korea Transportation Safety Authority's Vehicle Safety Research Institute to confirm for conditions for an approval. It is predicted that Naver's self-driving test car will be tested on actual streets starting from end of this year at the earliest and beginning of next year at the latest.
Starting from the 15th of this month, MOLIT changed a method for designating spaces for testing self-driving cars as negative. By doing so, self-driving cars that have received approvals for temporary driving can be driven on most streets in South Korea excluding certain streets that are limited. This means that when Naver receives an approval for its self-driving car, its car can go on a test drive on actual streets without any additional certifications or approvals. However even if it receives an approval, its cars need to carry two passengers.
According to a system for approval of temporary driving for self-driving cars that started from February of this year, total of 9 cars received license permits and license plates until now. Hyundai Motor Company and Kia Motors, Hyundai Mobis, Seoul National University, and Hanyang University received approvals. When Naver receives an approval, it will become the first South Korean ICT (Information Communication Technology) company to receive a license plate for self-driving car.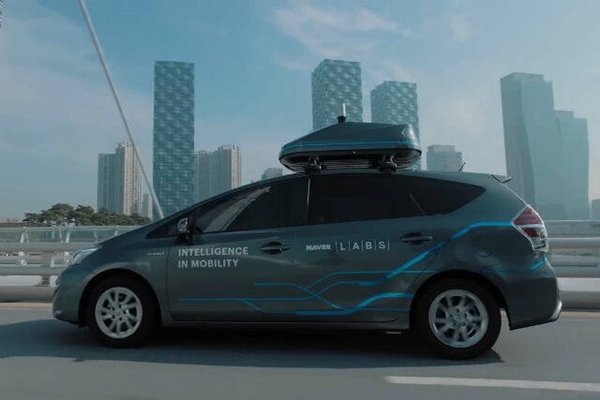 In last month, Naver announced at a developer conference called 'DEVIEW 2016'that it was currently developing self-driving car as one of 'living environment intelligence' technology for future and societies. It also announced of its plan to separate a group for R&D group that will be based on hardware such as robots and self-driving cars.
Naver is currently developing its self-driving car by focusing on a technology that will detect and avoid objects that are actually moving in complicated city environments. It is going to use vision technology, Deep Learning, and machine learning technology that it has been accumulating.
Naver is going to test Toyota's Prius. It is going to have a similar hardware as current self-driving cars and expensive sensors. Naver is going to attach Velodyne Lidar on top of Prius just like Google's self-driving car and install a video camera at the front. Besides these, Naver is also going to attach ultrasonic sensors at the front and the back. It is heard that Naver had worked with a small South Korean company to compose hardware.
Naver's researches focus on a technology that will distinguish signals that are incoming through many sensors and what commands it is going to give out. Naver believes that its self-driving technology has reached level 4 that corresponds to complete self-driving technology.
"Cars will become platforms during a generation of self-driving cars and important devices that will transfer information to each other." said a representative for Naver on the 21st. "Unlike how automotive manufacturers focus on safety for their self-driving cars, we are focusing on living environment intelligence technology for our self-driving cars."
Staff Reporter Mun, Bokyeong | okmun@etnews.com