Hyundai Motor Company is going to establish its first global Big Data center in Guizhou, China. Not only does Big Data provide useful information for development of connected car through analysis of patterns of consumers but it is also a technology that is necessary to implement self-driving cars. Hyundai Motor Company is planning to continuously establish Big Data centers in major regions of the world and this is part of its plan to grab an upper hand in technologies regarding future connected cars.
Hyundai Motor Company signed off on 'strategic collaboration agreement' regarding establishment of Big Data center on the 8th (China time) at Guizhou's International Ecological Conference Center while Secretary Chen Min'er of Guizhou and Vice-Chairman Jung Oui-seon of Hyundai Motor Company were in attendance.
Hyundai Motor Company is going to establish its Big Data center in Guian New Area, which is an exclusive zone for Big Data industries, and carry out actual actions to provide personalized connected car services for Chinese customers. This center will operate starting from June of 2017.
Guian New Area was selected as a comprehensive demonstration zone after Chinese Government designated Big Data as national strategic industry in last year. Global IT companies such as IBM, Intel, and Qualcomm are starting to settle into this area, and Hyundai Motor Company will be the first automotive manufacturers to move into Guian New Area. Hyundai Motor Company is expecting that there will be a lot of advantages from cooperation with Chinese Government and other global IT companies.
This center is Hyundai Motor Company's first Big Data center in a foreign country and will be in charge of playing an important strategic role. It will collect vehicle information and variety of social data in China and make them as assets and utilize them to develop connected car services that are personalized for Chinese consumers.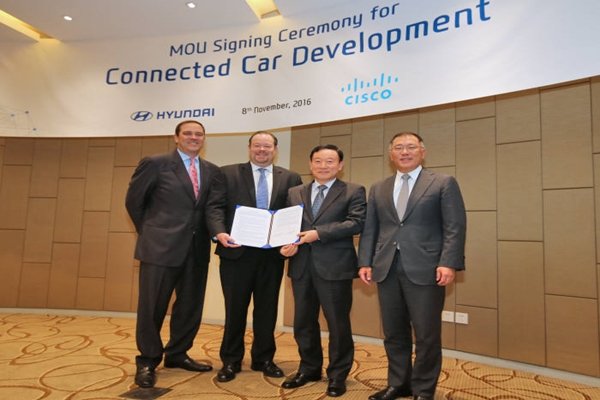 Hyundai Motor Company is also planning to establish Big Data centers in other major regions to quickly collect variety of social data including vehicle and traffic information in other countries and to analyze them. It is expecting that it will be able to provide variety of connected car services that correspond to preference of individuals by differentiating its services per country.
Previously Hyundai Motor Company established Big Data center in South Korea 3 years ago and set up 'Data Scientist' group to improve R&D and marketability of Big Data.
"Guizhou is emerging as a major area with unlimited potential as it is developing Big Data as new growth engine for economy." said Vice-Chairman Jung Oui-seon. "Not only this partnership will accelerate development of future vehicles such as connected cars but it will also contribute greatly in developing Chinese business for Hyundai Motor Company."
On the other hand, Hyundai Motor Company has decided to strengthen its partnership with CISCO to develop world's best connected cars.
Vice-Chairman Jung Oui-seon of Hyundai Motor Company and CEO Chuck Robbins of CISCO signed off on MOU (Memorandum of Understanding) regarding development of connected cars on the 8th at a hotel in Guizhou while representatives from Hyundai Motor Company and CISCO were in attendance.
Vice-Chairman Jung and CEO Robbins once met at Hyundai Motor Company's company building in Yangjae-dong in last April to discuss about working together for network and security technologies for connected cars.
Staff Reporter Mun, Bokyeong | okmun@etnews.com