MSIP (Ministry of Science, ICP and Future Planning) is going to finalize on technical standards for NB-IoT for the first time in the world. It is going to clearly organize system and technologies for frequency and output that use NB-IoT based on international standards and try to push forward timing of commercialization for NB-IoT by mobile network providers.
MSIP and RRA (National Radio Research Agency) are going to prenotify public policy implementation by after completing 'technical standards of NB-IoT for wireless facilities for electric mobile businesses' by next month at the earliest.
NB-IoT is a specialized service that utilizes part of frequency bandwidth of current LTE network for IoT.
Technical standards that are prepared by MSIP are going to apply frequency for NB-IoT service onto entire LTE network such as 850MHz, 1.8GHz, 2.1GHz, and 2.6GHz that is currently commercialized.
Mobile network providers are not going to occupy other bandwidth but use part of frequency that they already have. They are going to use 200kHz, which are used as guard band within each frequency, for NB-IoT. They are also going to leave 1/20th of broadband LTE frequency, which has 40MHz width upward and downward, for IoT and utilize it for wireless devices with small output.
It is predicted that mobile network providers will make long-distance network possible by deciding 'antenna supply power', which is related to wireless output, as 340 mW. Beside this, they are going to decide 'near-channel leakage power', which is related to antenna signal strength indicator, at a price that is lower than 37dB compared to central frequency.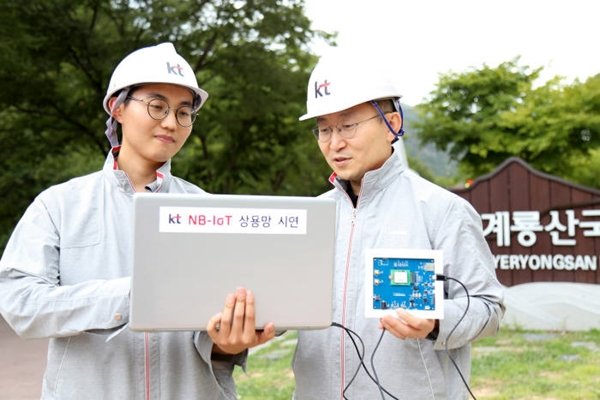 NB-IoT technical standards are based on standards of 3GPP, which is an international private standardization organization, so that they can be applied to actual wireless facilities. Currently research teams for NB-IoT are working on whether or not interference occurs for each frequency in actual environment with radio signals and whether or not it actually works properly. They are seeing that prenotification of public policy implementation might take place at the end of December.
When technical standards for NB-IoT are finalized, it is expected that stepping stones will be prepared so that South Korean companies can grab upper hands in related industries by being the first ones to commercialize world's first NB-IoT.
Mobile network providers and equipment and device manufacturers can quickly develop products when technical standards are finalized. Currently global mobile network providers such as AT&T, Vodafone, Telstra and others are preparing to commercialize NB-IoT service. Out of equipment manufacturers, Huawei and Nokia are already working on testing actual commercialized network.
If South Korean companies develop NB-IoT modules and products earlier than other global companies, they can sell these products to other countries where markets for NB-IoT have yet to be developed.
It is predicted that timing for commercialization of NB-IoT, which was originally determined to be first quarter of 2017, will be much faster as KT and LG Uplus have applied technical standards. It is likely that KT and LG Uplus will use 1.8GHz and 850 MHz of frequency bandwidth respectively to have IoT serviced in South Korea.
"We are going to finalize on technical standards in December at the earliest after collecting opinions from three mobile network providers." said a representative for RRA. "Although there are no different views towards technical standards that are based on 3GPP standards, it can take time to verify these standards."
Staff Reporter Park, Jisung | jisung@etnews.com