Hyundai Motor Company has installed its international standard software (SW) platform for the first time for new Grandeur. Starting with new Grandeur, Hyundai Motor Company is planning to install its SW for its other vehicles.
According to Hyundai Motor Company on the 3rd, Hyundai Motor Company's body and chassis control SW platform, which is based on AUTOSAR standards, is installed within new Grandeur that is expected to be released in the middle of this month.
AUTOSAR is an open-type automotive standard SW architecture. It is practically an international standard for automotive embedded SW as many global automotive manufacturers such as Toyota, BMW, GM and others are all using this architecture. When standard platform is used, it becomes easier to apply application SW that is developed based on this standard platform. Because development period becomes shortened and verification of quality becomes easier, many global automotive manufacturers are choosing standard platform.
Percentage of SW has become higher and more complicated for premium vehicles as number of coding lines has surpassed 1 million which is more than 10 times the number of coding lines for airplanes. Due to this reason, development of standard platform has become a must for automotive manufacturers. Hyundai Motor Company started developing AUTOSAR platform since 4 years ago and has applied its own SW for the first time for Grandeur's body control.
Platform can be divided into body and chassis and powertrain. Body and chassis control includes functions such as TPMS (Tire Pressure Monitoring System), ESC (Electronic Stability Control), and AEB (Auto Emergency Breaking) that are related to safety. Powertrain area can be divided into internal combustion engine and electricity.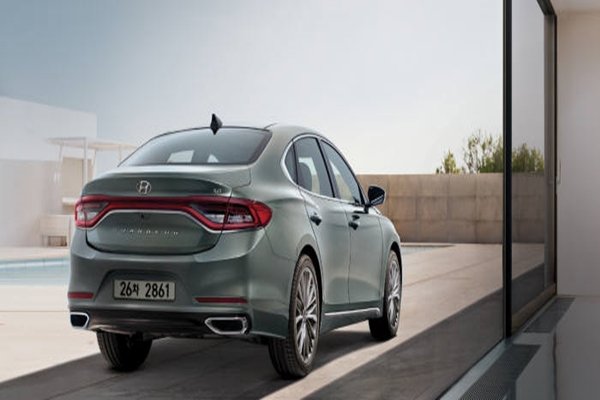 Hyundai Motor Company has equipped its new Grandeur's body and chassis platform with domestic platform. Not only Hyundai Motor Company is going to start equipping this domestic platform to its other vehicles, it is also going to make domestic powertrain SW platform within couple years.
Industries believe that domestic SW platform is the reason why high-tech safety functions, which are applied to luxury vehicles, are installed within new Grandeur. Hyundai Motor Company has applied intelligent safety technology brand called 'Hyundai Smart Sense' for the first time for new Grandeur and is planning to apply this technology to its entire vehicles. 'Hyundai Smart Sense' includes variety of technologies such as AEB, LKAS (Lane Keeping Assist System), and ABSD.
"Because Hyundai Motor Company has developed its own platform, it is able to equip its new Grandeur with high-tech control functions, which are applied to luxury vehicles, without any huge financial burden." said a representative for an automotive industry. "Hyundai Motor Company will be able to expand its platform to its entire vehicles and this is only possible because its platform is domestic."
Development of domestic SW platform has a same context as Hyundai Motor Company strengthening its competitive edge in SW. It has newly established Infotainment SW Development Team within Automotive IT Development Center and started developing OS (Operating System) for connected cars.
"Hyundai Motor Company and Kia Motors are focusing on developing their own automotive SW platforms." said a representative for Hyundai Motor Company. "They are going to develop high-quality services with credibility and solidify their positions as leading automotive manufacturers in technology."
Staff Reporter Mun, Bokyeong | okmun@etnews.com