CammSys Corp. (CEO Park Young-tae) is going to introduce its electric vehicle in March of 2017 and mass-produce this vehicle along with a Chinese company in early 2018.
"We finished designing vehicle and we are currently finishing up styling." said CEO Park Young-tae of CammSys Corp. "We are planning to introduce this vehicle at Seoul Motor Show that is going to be held in March of 2017."
Vehicle that is currently being prepared by CammSys Corp. is a 2-seater electric vehicle and is classified as A00 in China. CEO Park explains that its vehicle will be comparable to Renault's ultra-small electric vehicle called 'TWIZY'.
CammSys Corp. is a cellphone component manufacturer that was established in 1993 and had supplied Smartphone camera modules to Samsung Electronics. CammSys Corp. has utilized its own technologies as part of diversification of its business and expanded its business towards electronics in 2013.
However CammSys Corp. did not just stop at producing components. It purchased shares of Cony Motor Co. (31.1%), which is a South Korean electric vehicle manufacturer, and has expanded its business towards finished vehicles. In March of this year, it established a joint-company with a subsidiary of China's TATFOOK Group, to actually mass-produce this vehicle.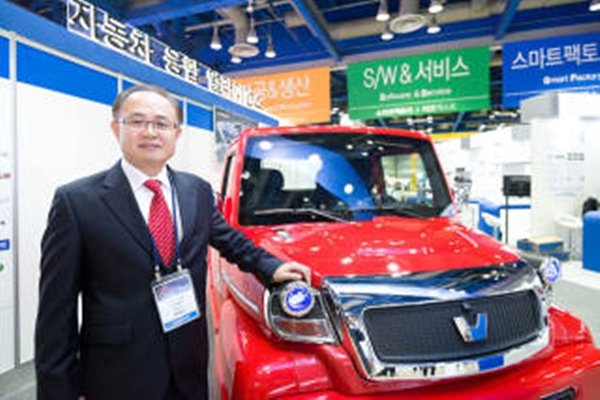 "Because electric vehicle markets are very active in China and a medium-grade business cannot mass-produce a finished vehicle, we have decided to partner up with Chinese capitals." said CEO Park. "Basically South Korean technologies and Chinese markets and capitals have joined hands."
"Because we possessed major technologies of electric vehicles, we have decided to expand our business towards finished vehicles." said CEO Park about his company's background in entering this business. CammSys Corp.'s major technologies such as driving motor, BMS (Battery Management System), and inverter are related to driving. CammSys Corp. announced that it has secured these technologies through its own R&D.
Markets for finished vehicles not only require technical skills but it also requires competitive edge in brand, marketing, and sales network, and this is too much for small and medium businesses.
"We clearly know that these markets are difficult markets to enter and that is why we are going after niche markets." said CEO Park. "We are going to go after niche markets with vehicles with economic feasibility that focus on personal transportation rather than luxury vehicles."
This subsidiary of TATFOOK Group is going to sell this vehicle that is produced from joint-company in China while CammSys Corp. will be in charge of other regions excluding China. CammSys Corp. is going to bring in its vehicles from China, assemble them according to correct situations in South Korea, and sell them on markets. Although timing can be changed depending on a process of related certifications, it is planning to sell its vehicles in 2018.
Staff Reporter Yun, Keonil | benyun@etnews.com