Lotte Group is going to invest $35.4 billion (40 trillion KRW) starting from next year until 2021 and hire 70,000 new employees. 10,000 employees that are working as short-term temporary employees will become full-time employees for the next 3 years. Lotte Group is also going to establish 'law-abiding management committee' that is under direct Chairman Shin Dong-bin of Lotte Group control.
Chairman Shin Dong-bin of Lotte held a press conference at Seoul Lotte Hotel on the 25th and announced group's plan to innovate its management. He apologized for problems that have come out on surface due to investigation done by prosecutor in the past 4 months and presented a roadmap for new growth. Chairman Shin, major executives from policy headquarters, and CEOs from 24 subsidiaries attended this press conference.
"Lotte was not able to satisfy South Korean citizens' level of satisfaction and expectations from society by having a complicated authoritative structure and decision making that is based on authorities." said Chairman Shin. "We are going to aim for qualitative growth as a company that fulfills all responsibilities from society and make $177 billion (200 trillion KRW) in sales by 2020."
Chairman Shin first announced that Lotte will be establishing 'law-abiding management committee' that will be under direct Chairman Shin Dong-bin of Lotte Group control. This considers the unprecedented situation where whole family of group's leader was summoned by prosecution due to suspicion of corruption and embezzlement and it focuses on transparency of management. Committee, which is composed of law experts, is going to examine reality of law-abiding management of Lotte Group and its subsidiaries and improve their businesses. Lotte is planning to install this committee as the group that must exist for subsidiaries that have assets over $886 million (1 trillion KRW).
Chairman shin also presented his plan to establish a virtuous industrial ecosystem by expanding investments and employment. Lotte is going to increase size of employment by more than 10% every year compared to previous year starting from 2017 and is going to hire 70,000 new employees by 2021. Out of new employees, 40% of them are going to be women.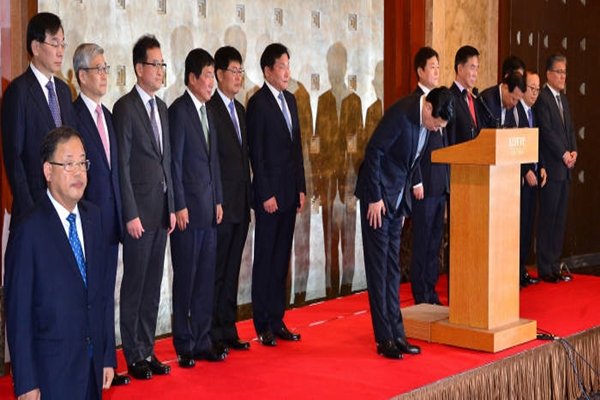 10,000 employees that are working as short-term temporary employees will become full-time employees for the next 3 years. These employees include 5,000 employees from distribution subsidiaries, 3,000 employees from food subsidiaries, and 2,000 employees from other subsidiaries.
He also announced group's plan to invest $35.4 billion (40 trillion KRW) during this time. Lotte is going to be active in facilities, infrastructures, and new businesses that are going to cost about $7.08 billion (8 trillion KRW) on average per year.
Lotte Group is also going to push for listing of Hotel Lotte, which has stopped its service due to investigations from prosecution again. Considering the fact that Chairman Shin is facing trials, Lotte Group is going to work with relevant organizations and listed supervising companies while observing information from indictment. There is a chance that its plan of listing Hotel Lotte can be foundered if Chairman Shin is sentenced and imprisoned. Lotte is going to convert Hotel Lotte into a holding company within a range where related laws are allowed and improve group structure. It is also going to consider listing outstanding subsidiaries such as Seven Eleven and Lotteria.
"We are going to prepare groundwork to become a global company by forming shareholders in various ways." said Chairman Shin. "We are going to re-invest into hotel and duty-free businesses and strengthen our competitive edge."
Policy headquarters, which is Lotte Group's control tower, is going to break up since its establishment 12 years ago. Although it was responsible for mediating decision making between subsidiaries, there were side effects as its size of company had started to grow. Prosecution believes that policy headquarters was responsible for embezzlement and malpractice during a process of M&A and others.
Lotte is going to leave functions that are necessary for policy headquarters, which is currently composed of 7 departments and 300 employees, and minimize this company as much as possible.
"We are going to prepare detailed roadmap for group management by working with foreign experts, management, executives and employees." said Chairman Shin. "We are going to do our best in order to solve conflicts regarding control of this company without any more confusion as soon as possible."
Staff Reporter Yun, Heeseok | pioneer@etnews.com