Chairman Koo Bon-moo of LG Group is going to grow its electric vehicle battery business as the main business of LG Group. After leading construction of battery plant in Europe, Chairman Koo now has 4 battery supply plants in South Korea, the U.S., China, and Europe. Chairman Koo also announced his will to promote electric vehicle battery as LG Group's major capability in vehicle component field.
LG Chemicals made an announcement on the 6th that it held groundbreaking ceremony for its battery plant in Wroclaw, Poland on the 5th (Poland time) while Chairman Koo and Deputy Prime Minister Mateusz Morawiecki of Poland were in attendance.
Plant in Poland will be constructed as a complete production base that produces from electrodes to packs so that it can quickly respond to European markets. Its area will be 41,300 m2 and will be constructed within 'LG Cluster', which is located in Kobierzyce near Wroclaw. It is set to operate starting from second half of next year.
Investment will be finished by end of 2018 and then LG Group will have production capability that can produce more than 100,000 batteries for high-performance electric vehicles (based on electric vehicles with more than 320km mileage) per year.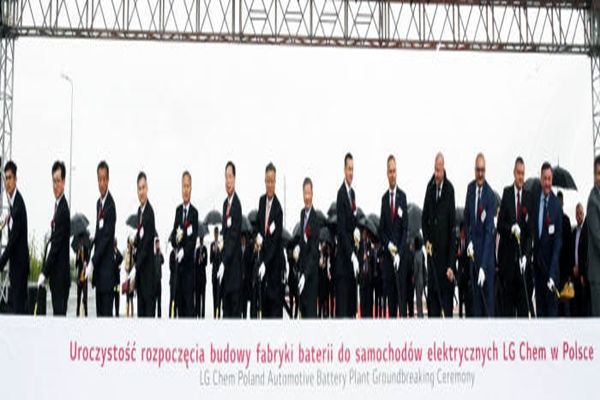 By constructing a battery plant in Poland, LG Chemicals is expecting to secure sizeable economic feasibility that comes from increased orders within Europe, optimization of distribution cost due to location that is near European automotive manufacturers, utilization of infrastructures of current LG Cluster, and active support from Poland Government. It is planning to solidify strategic partnership with European customers by strengthening responsive systems such as supply of products on right time and rapid technical support with European customers.
"We are going to continuously work to promote our battery plant in Europe as the major base in Europe and the advance base for vehicle components." said Chairman Koo.
When battery plant in Poland is constructed, LG Chemicals will complete four global production system that connects Ochang (South Korea), Holland (U.S.), Nanjing (China), and Wroclaw (Poland). Based on electric vehicles, LG Chemicals is the only company that has production bases in the U.S., China, and Europe that take up about 90% of production of electric vehicles. To respond to its customers quickly, LG Chemicals will have its plants in the U.S., China, and Poland supply products that are ordered from corresponding countries and have its plant in Ochang be in responsible for production of supplies for orders from South Korea and regulation of global supplies.
LG Chemicals currently has 83 projects from 29 global automotive manufacturers and its accumulated amount from its projects surpassed $32.3 billion (36 trillion KRW). Tens of vehicles from 28 projects will be mass-produced starting from fourth quarter of this year to the end of next year.
Staff Reporter Park, Taejun | gaius@etnews.com