It is predicted that South Korean industrial drones that can take thermal infrared images will fly over South East Asian countries.
VARAVON (CEO Kim Jong-cheol) and UMAC Air (CEO Choi Jong-pil) made announcements that they will be supplying drones with cameras that can take thermal infrared images and two zoom cameras to 4 South East Asian countries. They will be supplying two for Indonesia, one for Singapore, one for Thailand, and one for Myanmar.
VARAVON applied a gimbal that can carry both a thermal infrared camera a normal camera to its drones. UMAC Air's drones are made with carbon materials, which make drones lighter, and can fly with two cameras. Thermal infrared cameras can detect objects or people that are hidden behind obstacles when they film mountains or forests from sky and are usually used for searching of survivors or security purposes. Four drones were supplied to Korea Electric Power Corporation and are currently being used to inspect transmission towers.
4 South East Asian countries are planning to use these drones to surveil its borders. Since it costs more than $100,000 per drone, they are planning to purchase these drones with the budget related to national defense. After evaluating performance of these drones through demonstrations, they are going to decide whether or not they are going to purchase additional drones in next year. "VARAVON and UMAC Air are planning to supply products with improved performance." said a representative for this industry.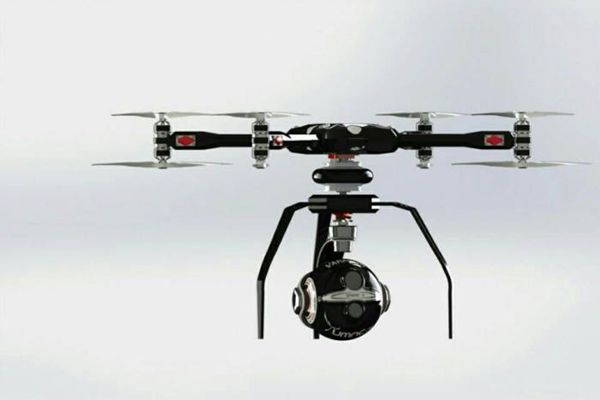 UMAC Air and VARAVON are planning to develop additional industrial drones for special purposes such as filming of thermal infrared images and VR.
"Number of inquiries for our drones is increasing after introducing them for the first time in American markets." said CEO Choi Jong-pil of UMAC Air. "We are planning to develop additional drones according to product categories."
"Number of demands for special filming techniques such as thermal infrared surveillance images and 360° VR images is increasing in image markets recently." said CEO Kim Jong-cheol of VARAVON. "We are planning to grab an upper hand in image markets through development of new technologies that correspond to demands from markets."
VARAVON received Merlion award at 'Safety Security Asia 2016' that was held from the 28th to the 30th (Singapore time) in Singapore. This award is given by Singapore's Ministry of Land, Infrastructure, and Transport's minister to a business that develops innovative products and is based on Singapore's symbol that has a lion head and a mermaid body. Since this award gives public confidence from national perspective, it will have positive effects in exporting drones to South East Asian countries.
Staff Reporter Kwon, Dongjun | djkwon@etnews.com