South Korean Government is volunteering itself as a testbed to strengthen competitive edge of SW, which is the major technology for Fourth Industrial Revolution. It is willing to actively support South Korean SW businesses so that they can grow in global markets based on competitive edge. It is also going to give shape to joint-models between government-funded research institutions and private businesses.
Hyun Dae-won, who is at the top seat of Blue House's Office of the President's Future Strategy Office attended 'Softwave 2016', which was held at KOEX on the 26th, and emphasized the importance of roles of South Korean Government and huge corporations that can establish references for SW products and services with competitive edge.
"President Park Gun-hye's message indicates that we need to actively establish references for solutions that have possibilities." said Hyun Dae-won by reading President Park Gun-hye's congratulatory message on behalf of her. "We are going to encourage cooperation between South Korean businesses with other businesses and South Korean Government so that they can produce synergy."
"I saw possibilities of South Korea's SW industries at Software 2016." said Hyun Dae-won. "We are going to support in every way we can so that there is cooperation between SW businesses and that South Korean Government and businesses with financial strength can be references."
South Korean companies are working hard to secure competitive edge in major SW fields and they are in desperate need for government support to secure driving forces for Fourth Industrial Revolution.
SK Holding C&C recently introduced AI (Artificial Intelligence) platform called 'Aibril' that optimizes IBM's AI platform called 'Watson' to South Korean environment. It is able to graft AI technologies through Korean and is expected to be applied to all industries such as finance and manufacturing.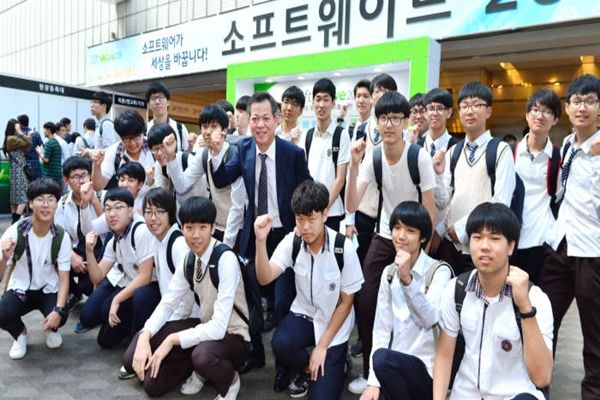 Hancom has developed voice-recognition automated translation service called Genie Talk with ETRI (Electronics and Telecommunications Research Institute). Genie Talk is a prime example that has required cooperation between a private business and a government-funded research institution.
Duzon Bizon Co., Ltd. has already recorded $90.3 million (100 billion KRW) in sales from ERP (Enterprise Resource Planning) solution in South Korea. TMax Soft has emerged as a threat to foreign products by introducing South Korea's technical skills in DBMS (Database Management System) and OS markets.
South Kroea's SW businesses are also carrying out M&A with foreign businesses to secure competitive edge.
Systran acquired a business to secure natural language processing technologies. It has developed a platform called 'Systran io' and has finished preparation to launch it in Chinese markets in November. Sysone has introduced unmanned evaluation gate with an automated immigration solution and is planning to export it in Mongol.
South Korean Government is taking a stance to actively support South Korean businesses so that they can strengthen their competitive edge and establish joint-models. Also it is planning to establish testbeds for their products and services.
On this day, President Park emphasized a role of South Korean Government in developing South Korea's SW industries through her congratulatory message.
"As all industries are recognizing SW as major element for competitions, demands for skilled SW engineers and solutions are increasing." said President Park. "To grow these momentums as bigger fruits, we need to gather national capabilities with SW practicians at the center." She also put emphasis on SW by saying that it is a creative economy basis that will lead Fourth Industrial Revolution and that South Korean Government will develop its SW industries to speed up convergences and innovations throughout South Korean industries.
Staff Reporter Kim, Jiseon | river@etnews.com & Staff Reporter Sung, Hyeonhee | sunghh@etnews.com