Telechips is going to supply SoC (System on Chip) for Set-Top Box to one of North America's huge broadcasting companies. This is the first time when a South Korean fabless semiconductor company is entering SoC markets for Set-Top Box that have been dominated by Broadcom and ST Micro.
According to an industry on the 20th, Telechips is going to supply SoC for Set-Top Box to a North American broadcasting company at the end of November.
"All we have to do now is to sign a contract." said a representative for Telechips. "Meaningful sales will occur at the end of this year and we expect huge amount of sales in next year." Although accurate amount of supply is not known, industries estimate that Telechips will supply millions of chips until age cycle of corresponding Set-Up Box ends.
Telechips has an experience of supplying SoC to a device manufacturer for small OTT (Over The Top). However this is the first time it is supplying chips to a traditional Set-Up Box manufacturer. Based on this experience, it is planning to go after markets in Asia, North America, and Europe. Telechips is planning to increase sales from Set-Up Box SoC equivalent to sales from SoC for cars and its goal is to make $446 million (500 billion KRW) in sales in 2020 by making steady growths from both businesses.
Set-Up Box SoC that is supplied by Telechips is 'SNP8980' that supports 4K resolution. It has ARM Cortex A53 Quad-Core CPU Core and Mali-400 GPU. 4K Codec semiconductor design IP utilizes Chips&Media's products that are produced from Samsung Electronics' 28-nano foundry facilities.
Experiences in dealings are important in Set-Up Box SoC markets. Paid broadcasting companies do not deal with businesses that have no experiences. Telechips is expecting that it will be able to penetrate South Korea's IPTV markets based on its experiences in North America.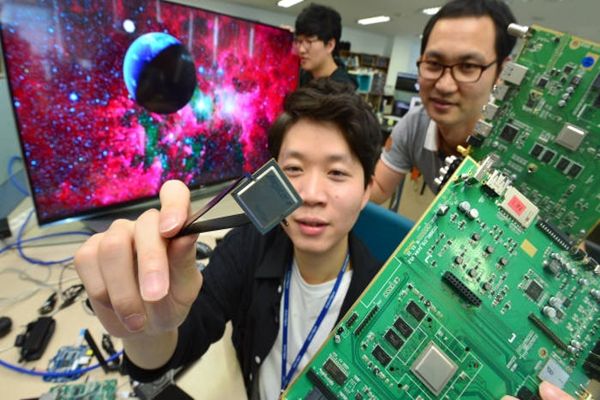 Current situations of Set-Up Box SoC markets tend to be favorable towards Telechips. Currently, Broadcom and ST Micro take up about 90% of markets. However ST Micro withdrew from this business in early this year due to low profit ratio. Broadcom is showing an instable situation in this business after acquiring Avago. It is heard that many employees that are related to this business left Broadcom that has resulted in poor responses towards its customers. Most of South Korea's IPTV Set-Up Boxes have Broadcom's SoCs. Due to poor responses, customers are showing huge amount of dissatisfaction towards Broadcom's products. These circumstances have given Telechips its opportunities to succeed in this market.
It recently made business cooperation with an American multimedia semiconductor designer called Sigma Designs. From now on, Telechips is going to develop and sell Set-Up Box SoC for TSDS (Telechips Sigma Designs Semiconductor) with Sigma Designs and share profits.
It is predicted that synergy from cooperation between these two businesses is going to be significant. Sigma Designs has many experiences in supplying its products in North American and European markets that are the biggest Set-Up Box markets in the world and has good relationship with its customers. Telechips also has good relationship with its customers in Asia region and has many major capabilities that are related to Set-Up Box SoC.
Synergy from technical cooperation is also going to be huge and CAS (Conditional Access System) that is installed into Set-Up Box is the primary example. Telechips and Sigma Designs have CAS licenses from NDS and Nagravision respectively and this allows them to go after all broadcasting companies that use CAS from NDS and Nagravision. In case of OS (Operating System), Telechips and Sigma Designs have responsive capabilities towards Android and Linux respectively.
"It was important for us to secure major solutions that are related to Set-Up Box early and to increase our responses towards markets." said CEO Lee Jang-kyu of Telechips regarding this. "We are going to make a quantum jump into top 3 places in global Set-Up Box SoC markets by 2020."
Stock industries estimate that Telechips will make about $89.3 million (100 billion KRW), which is 20% more than last year, in this year. To make $446 million (500 billion KRW) in sales in 2020, Telechips continuously needs to grow its business for SoC for cars, which takes about 80% of its current sales, and to rapidly expand its sales from Set-Up Box SoC.
"Set-Up Box SoC is our new driving force for the future." said CEO Lee.
Staff Reporter Han, Juyeop | powerusr@etnews.com