Walter Galinat CEO Performance Materials, Merck

- Actively secure next-generation technology including QD

Merck, leading science and technology company based in Germany, will expand its production capacity of OLED materials by up to five times to respond to market dynamics in OLED for smartphones and TVs in a faster manner. The company will also push the boundary of display materials toward new applications like automobiles with various OLED, LCD and QD materials.

Walter Galinat, CEO of Merck's Performance Materials, said on September 1 that "Merck has completed a new OLED plant in Darmstadt that will enter into operation early this month. With the new plant, we will be able to increase the production capacity of OLED materials by up to five times."

The new plant where Merck invested 30 million euros introduced equipment directly designed by Merck unlike its previous facilities. The company's unique production knowhow was reflected into the plant equipment design with a goal to further increase productivity and quality. The modular design for rapid line addition is another advantage.

Merck also expanded the role of OLED Application Center launched in Korea in June of last year. "Our investment into the new plant in the headquarters and the center in Korea represents our confidence that OLED technology will greatly affect the display and lighting markets in the future. In particular, OLED Application Center achieved high performance in meeting the needs of Korea's major customers while preserving its proximity with them over the past year."

Merck recently took quick steps to secure cadmium-free Quantum Dot (QD) technology. Following its acquisition of Qlight Nanotech last year, it joined hands with Nanoco this year.

"A material company needs to consider all possibilities because the fate of materials in the dis-play market will be in the hands of end-users in the future. Merck wants to become a global lea-der in any material so that it is quite natural for us to invest into new technology," he explained.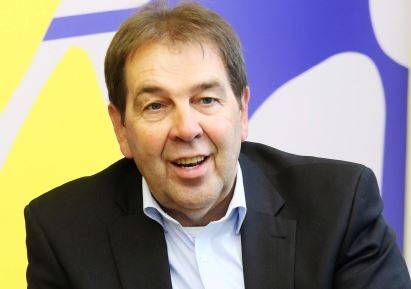 Merck will look at both QD-LCD and QLED areas. In commercial QD-LCD available now, the company aims to release an advanced solution.

"Today's QD-LCD uses a QD film attached on the LCD panel, but Merck is working on a different solution. I cannot comment on details but we are studying an approach different from the previous one," Galinat said.

He also showed his confidence in OLED blue phosphor materials, as well as materials for printed OLED which remains hardly commercialized around the world due to a high technology barrier.

"Currently, manufactures are facing many challenges in OLED like material, process and production and among these, manufacturing a blue phosphor material is a big challenge. But we will be able to unveil a product to ensure the longer life cycle of OLED panels within two to three years," he stressed.

With regards to printed OLED materials, he said that "we gained speed in developing soluble materials at OLED Application Center in Korea. We already upgraded related equipment and will increase the level of collaboration with customers to commercialize them in a few years."

Merck is also reinforcing its ability to react to the car industry besides the display industry. Automotive Platform was the result of its steady efforts in this area, where it has developed a new display applicable to futuristic cars and various security technology and brands in addition to existing pigments for car painting. It is looking for customers in the car industry.

"Printed OLED can be very likely used for the sunroof with adjustable transparency and advanced LCD and OLED materials for front and real lamps. The car industry is keen to use Merck Platform and this business will be interesting," he said.

By Bae Ok-Jin withok@etnews.com