KT and Verizon, which is the biggest telecommunication business in North America, have agreed on standards of 5G technologies and established a type of 'blueprint'. Because they only need to develop equipment and devices, industries believe that they are near on commercializing 5G.
Because this is a result of two businesses that have huge influence on global telecommunication industries, it will be advantageous for them to establish international standards in the future. It is predicted that competition for commercializing 5G will become even fiercer.
While Chairman Hwang Chang-kyu of KT and CEO Lowell McAdam of Verizon were in attendance, KT and Verizon agreed on 'Business Agreement of 5G Technologies' in Basking Ridge where Verizon Headquarters is located on the 24th (U.S. time).
Major point of this agreement is to agree on standards of 5G technologies. They have established standards of 5G technologies to fulfill requirements such as transmission speed, ultra-low delay and others in detail. If they develop equipment and devices according to a blueprint, they can fulfill 5G. Although there were times before when businesses agreed on standards of technologies, this is the first time in the world where two businesses are agreeing on detailed steps.
'Upper Regulations of Demonstrative Service of 5G' that was introduced by South Korea's 5G Strategy Committee at the end of last month was directly applied on standards of technologies that KT and Verizon agreed on and they are: 28GHz ultra-high frequency, 8-Band CA (Carrier Aggregation), 8 MIMO (Multiple-Input Multiple-Output), and Dynamic TDD (Time-Division Duplex).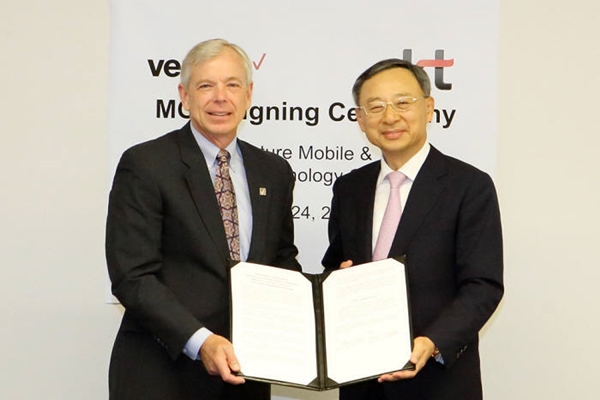 It seems that KT, which needs to carry out a demonstrative service of 5G at the end of this year, is going to be very active in commercializing 5G. Equipment and devices will be manufactured according to standards that these businesses agreed on. South Korean businesses such as Samsung Electronics, LG Electronics and others will also participate and if even their partners are included, this will be a huge help for equipment manufacturers in South Korea.
KT is predicting that this agreement with Verizon will be a huge help in establishing international standards of 5G in the future since it is more advantageous to have more users of its technologies. KT's strategy in the future is to work with many other businesses and to expand same standards of technologies. Verizon, which has 112 million wireless members, is the top telecommunication business in the U.S.
As KT and Verizon agreed on detailed standards of technologies, it is predicted that competition on commercializing world's first 5G will become fiercer.
A demonstration of 5G technologies that satisfy standards of technologies that they agreed on was shown at a model house that was prepared at Verizon Headquarters. There were no problems in operating 3 4K VR devices and 4 UHD TVs at the same time by using 28GHz frequency bandwidth.
"From equipment and device manufacturers' standpoints, it is most important to see which regulations businesses that have a lot of demands are requesting." said Director Lee Dong-myeon of KT's Convergence Technology Institute. "Since we agreed with a global telecommunication business on detailed standards of technologies, it will be advantageous for us in establishing a 5G ecosystem in the future."
Staff Reporter Kim, Yongjoo | kyj@etnews.com